Every other summer, Nathan's parents make it possible for all of the family to get together for a family reunion. (This was our
reunion
two years ago and this was it
four years ago
.)This was our summer to get together and boy howdy, was it wonderful!! The fun began with driving to Ogden to stay the night with my brother Jon and his family. They are always so wonderful for letting us stay with them! Here is a picture of the boys totally zonked out. Sarah had flown to Denver on Monday so she could spend a few days playing with Madoka (the oldest daughter of Tom, who was Nathan's exchange student when they were younger.) and Katie's family.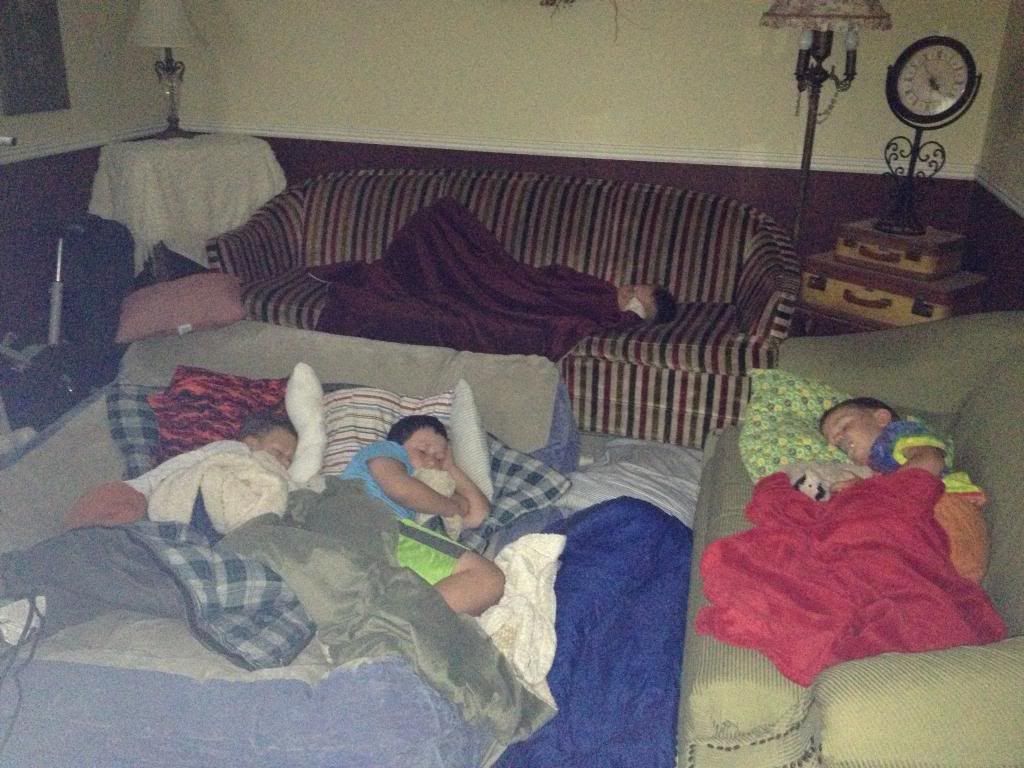 We saw a lot of this on our nine hour drive through Wyoming.
It was all worth the long drive to be able to spend a week with all of Nathan's family. On the first full day that we were together, we went to the Rec Center to swim.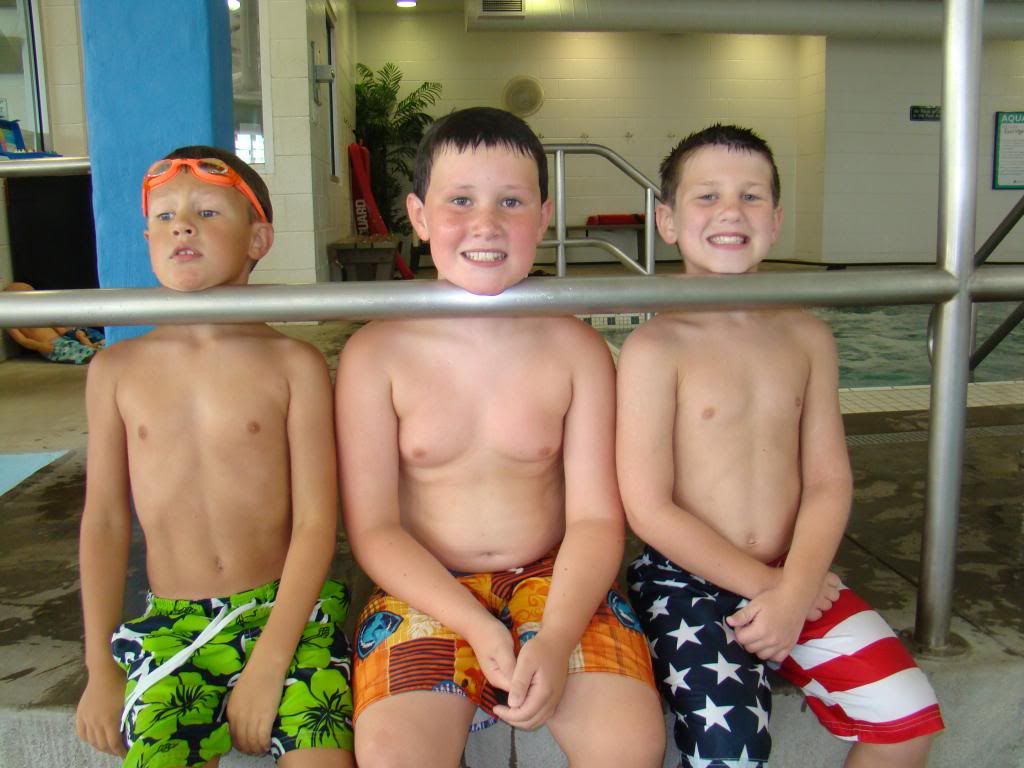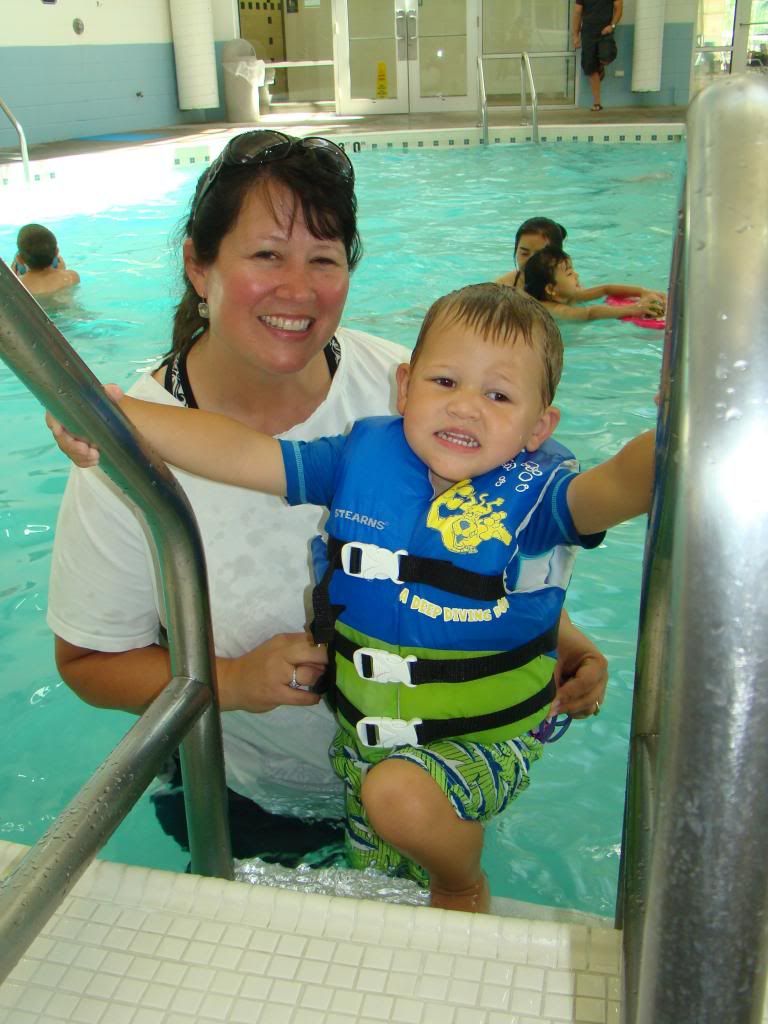 Later that day, we had a family Renaissance dinner and festivities. This was one of my favorite activities that we did. I think it was because we were all together, we laughed so hard and really enjoyed each other. I think everyone looked amazing!
Being silly!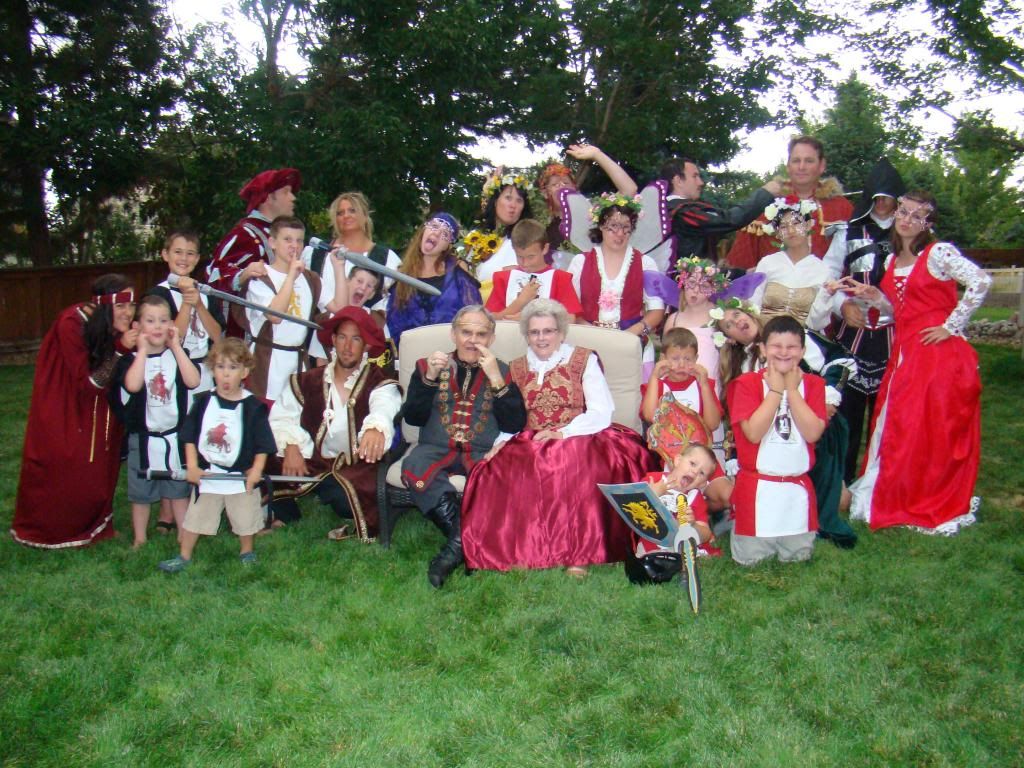 Grandma gave all the girls masks that Heidi (my sister-in-law) had made. (Check out
Heidi's etsy
store! She's amazing!!)
Grandpa "knighted" all of the boys and gave them swords and shields. All of the boys were excited to receive their sword, but Levi was thrilled!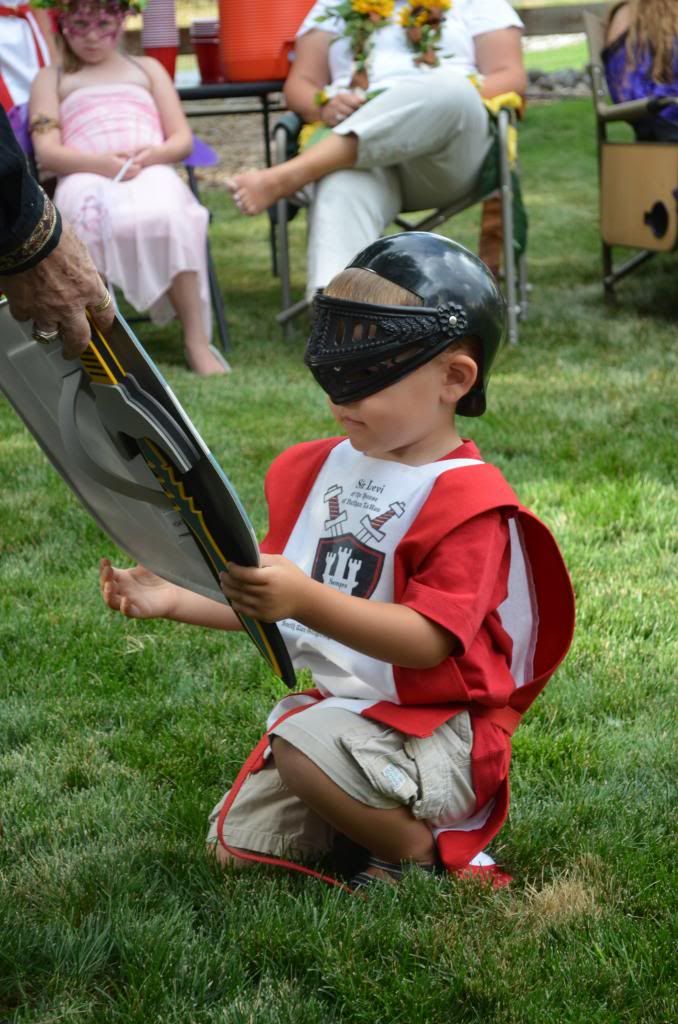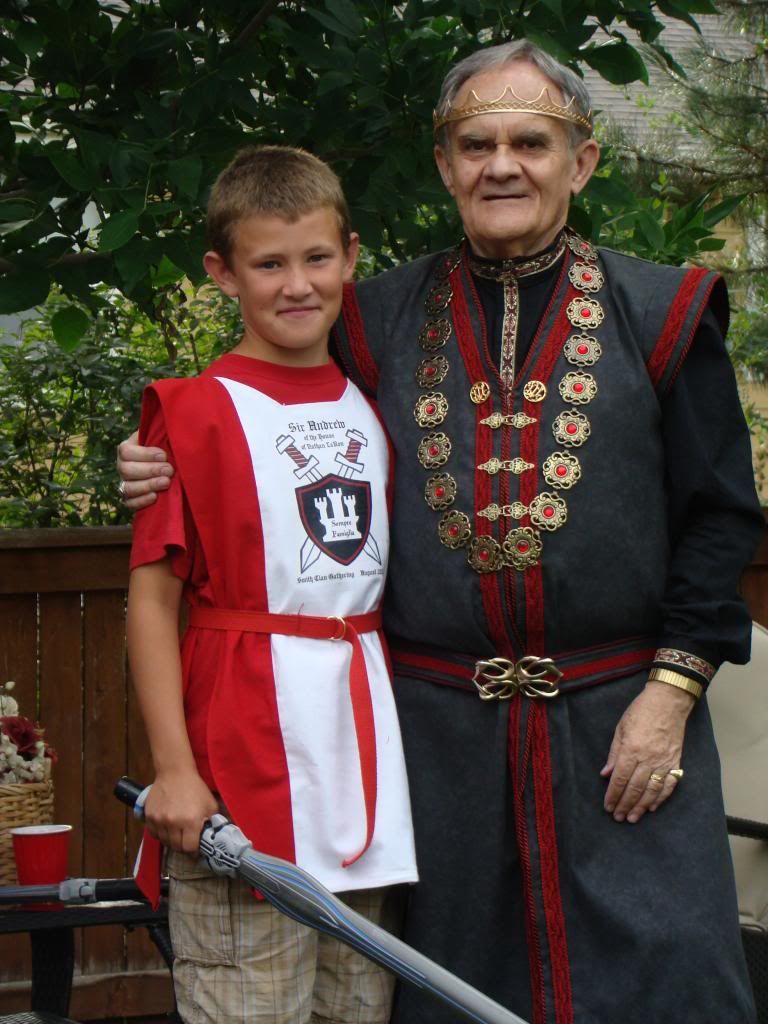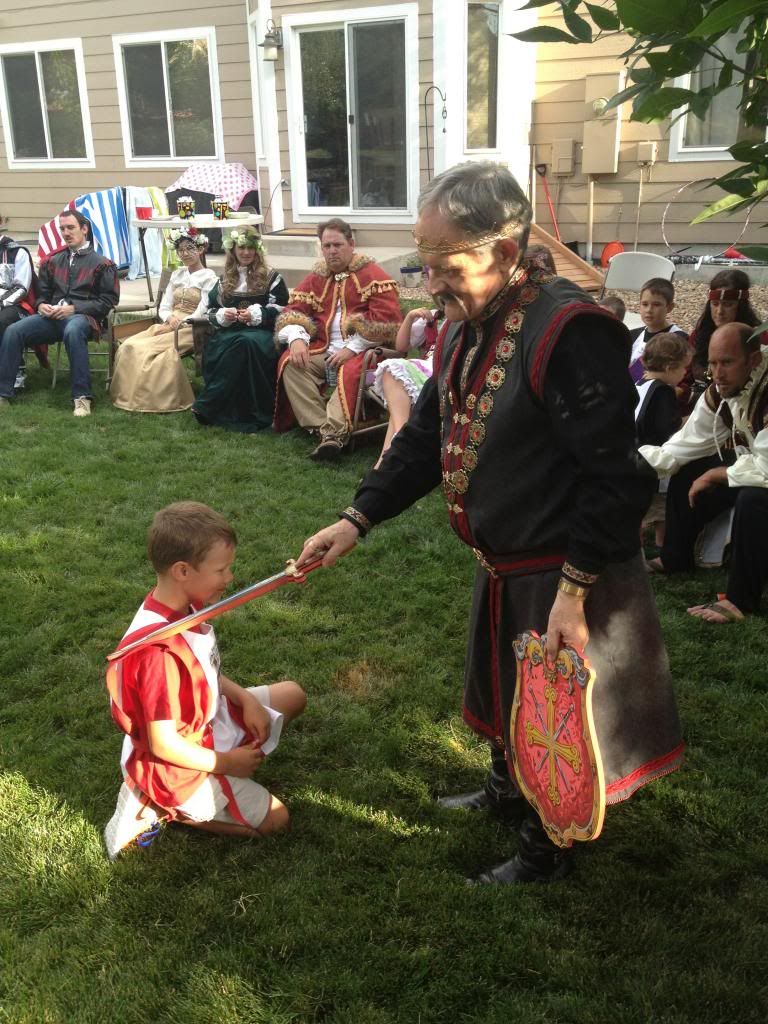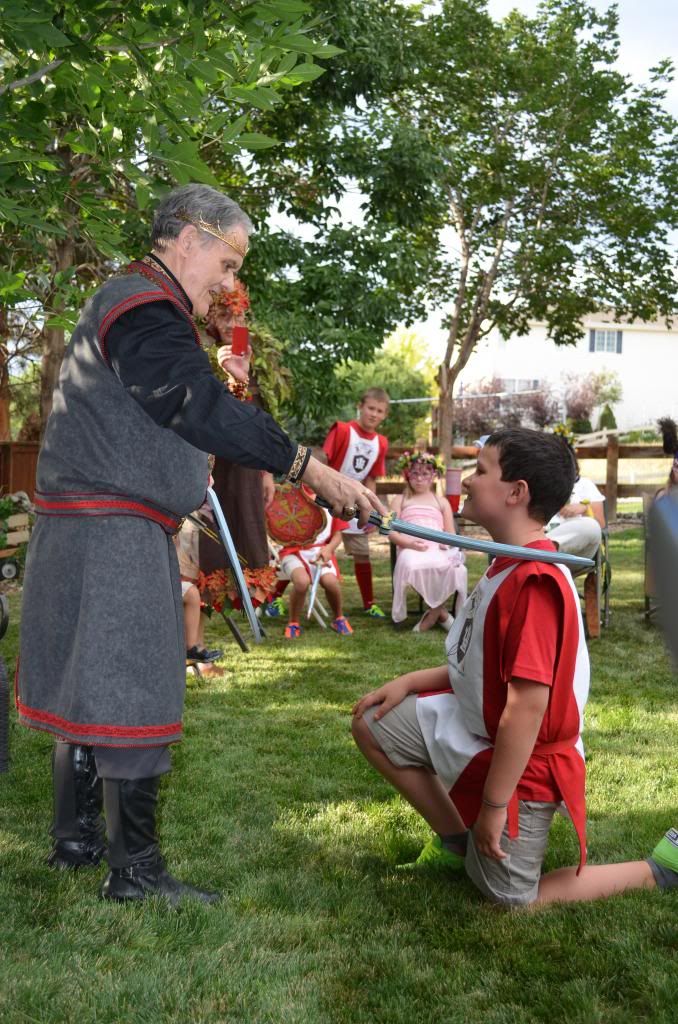 Our dinner consisted of each family receiving a platter of food to be shared. We could use a knife and our fingers to eat. We ate delicious roasted chickens, small red potatoes, baby carrots, corn and rolls.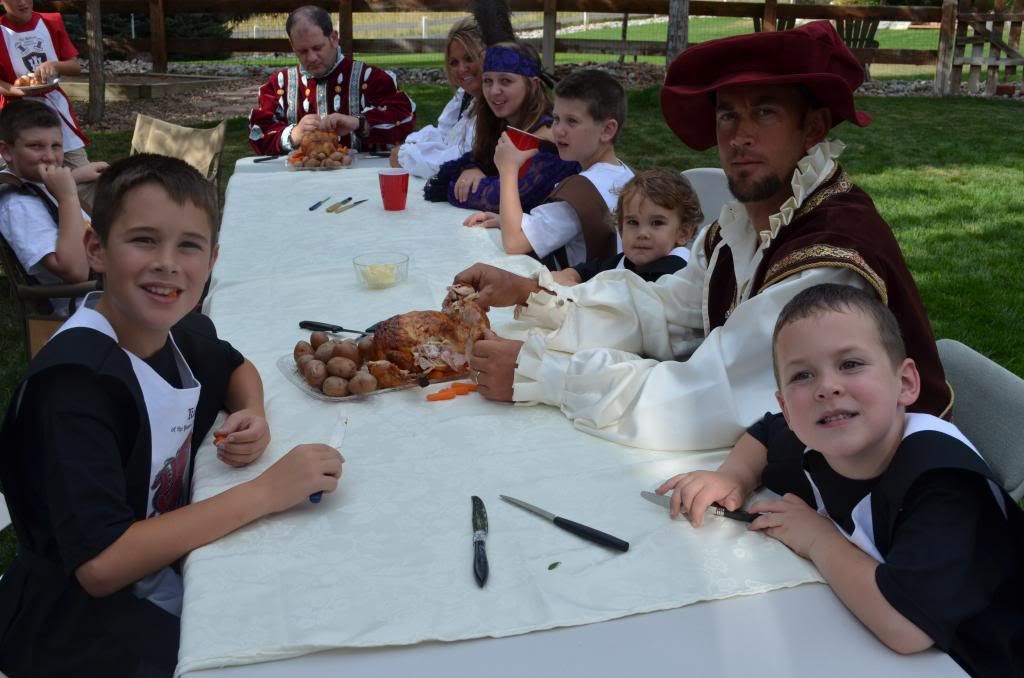 After dinner, Uncle Guy taught the boys how to sword fight. Our boys took this instruction very seriously. Everyone enjoyed the fighting!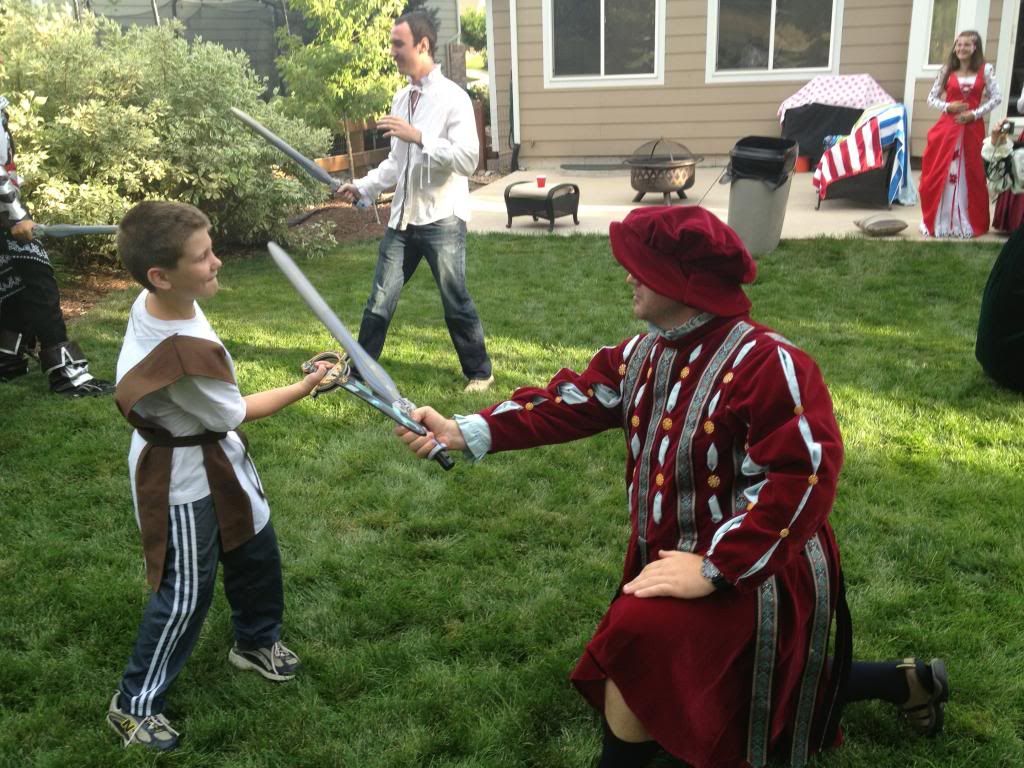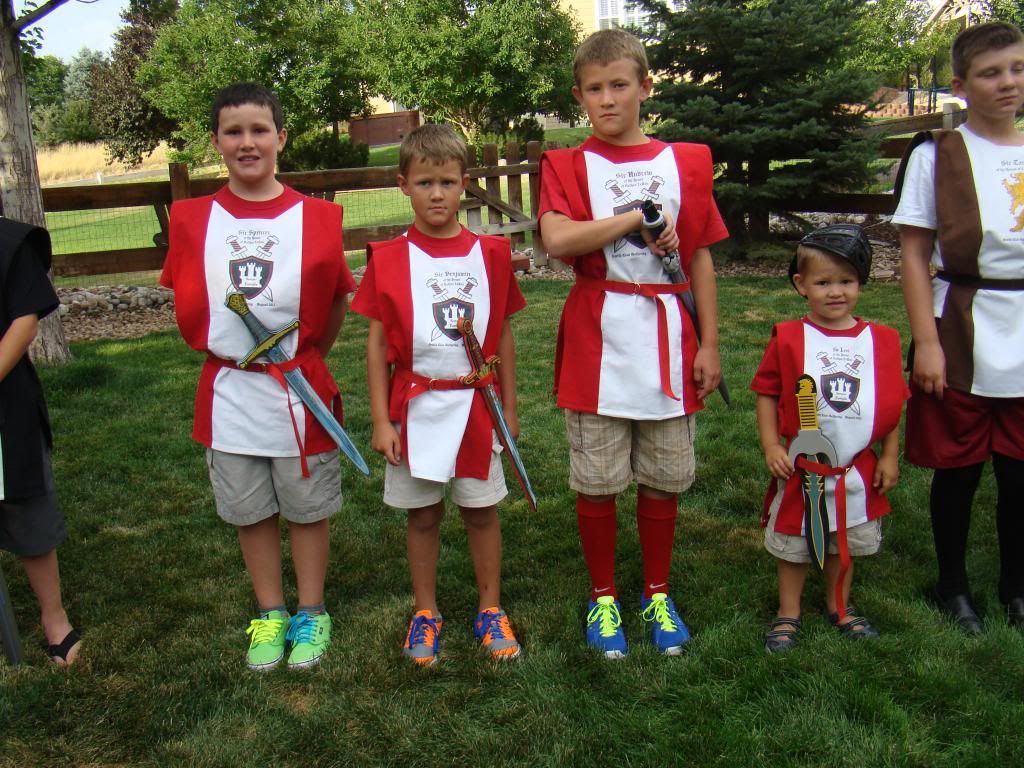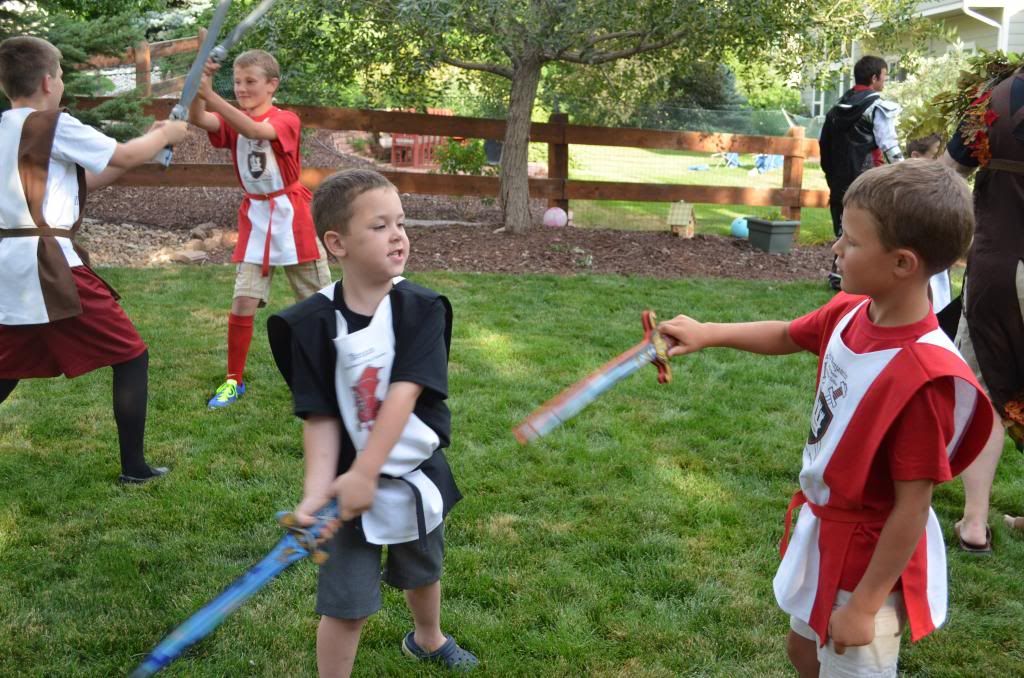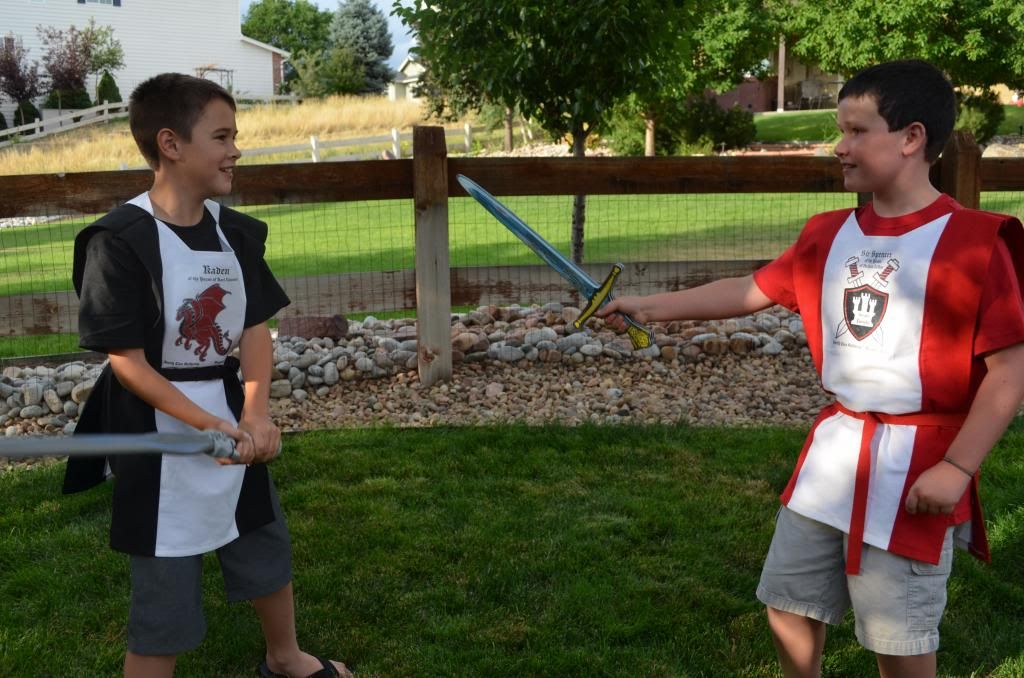 Nathan and I had been asked to teach everyone a dance from the Renaissance era. We taught two dances and we all had a fun time! (We didn't end up with great pictures of the dancing because everyone was moving so much - bummer!)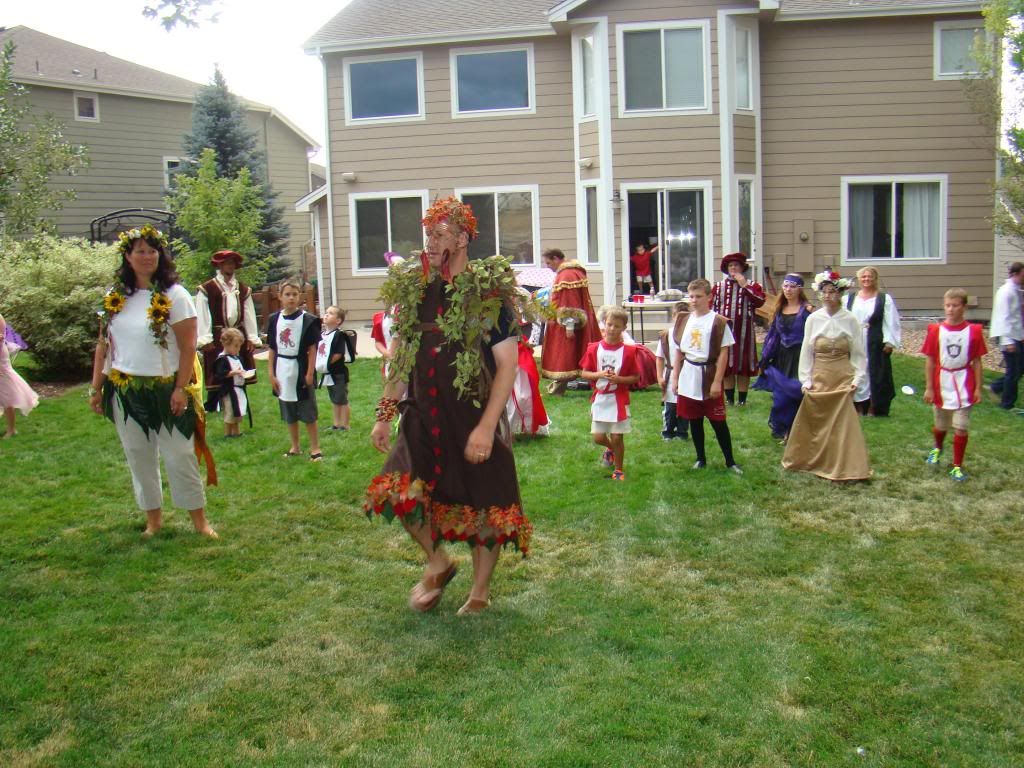 The next day, we drove to Larkspur, CO for
The Renaissance Festival
.
Here we are walking through the castle gates into the village. We are so excited!
Soon after coming into the "village" we met a minotaur.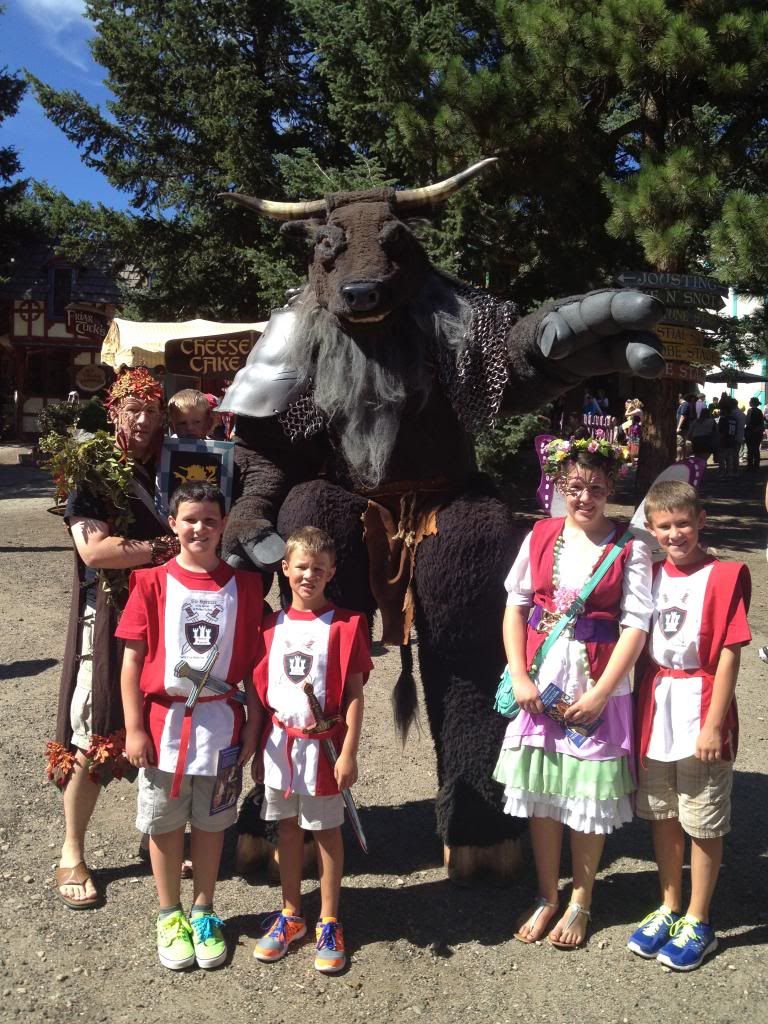 We went on a few rides. All of the rides are man-powered. They are pretty cool!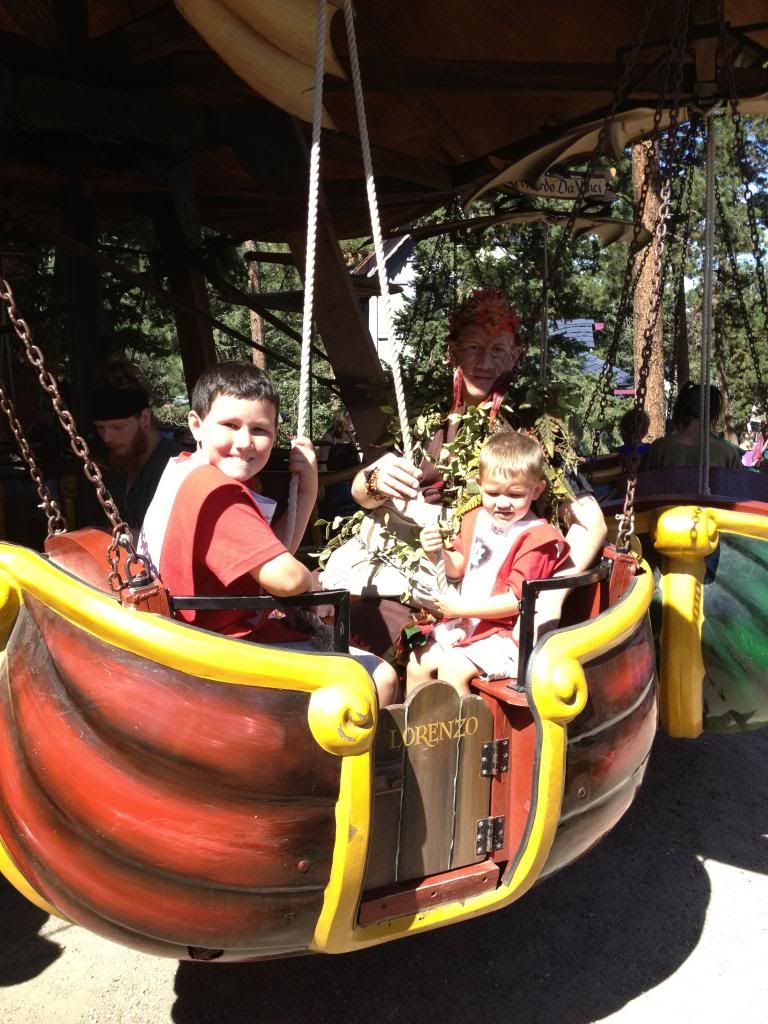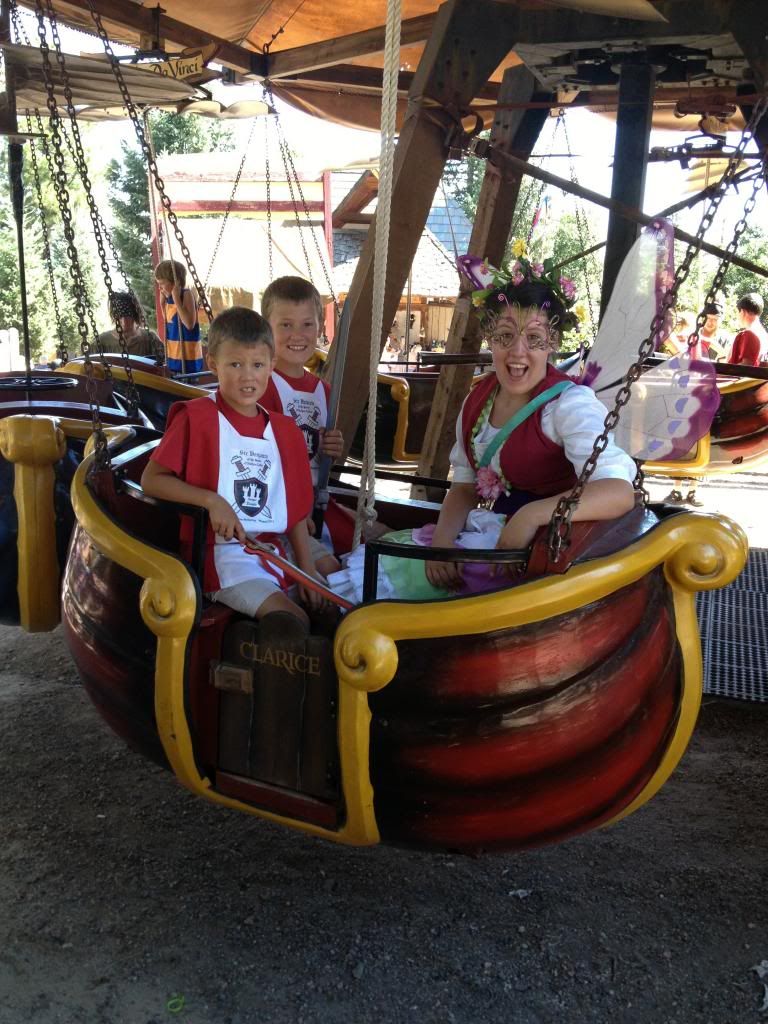 Levi was able to practice his sword fighting skills on a mere merchant.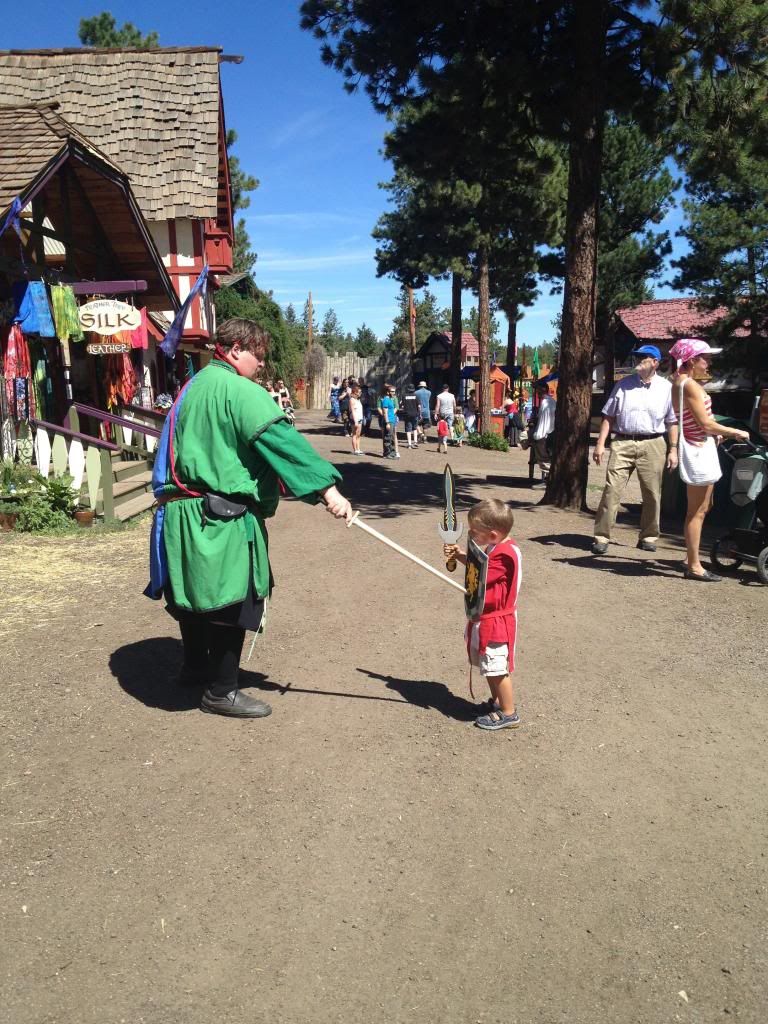 We rode camels, llamas, horses and elephants.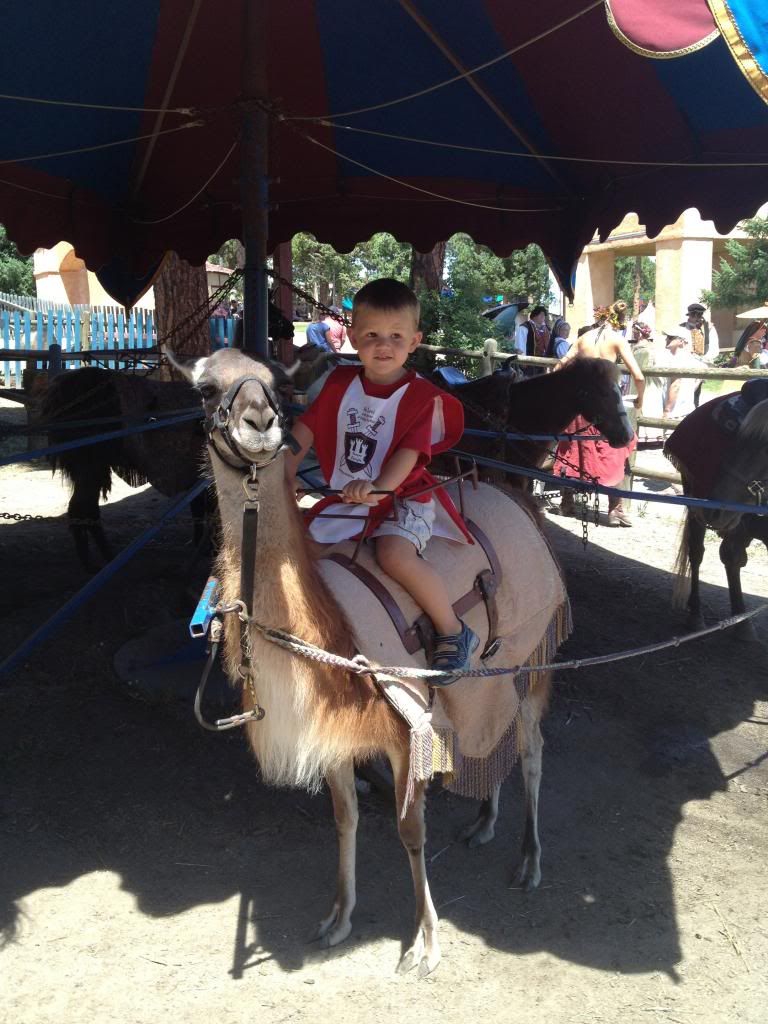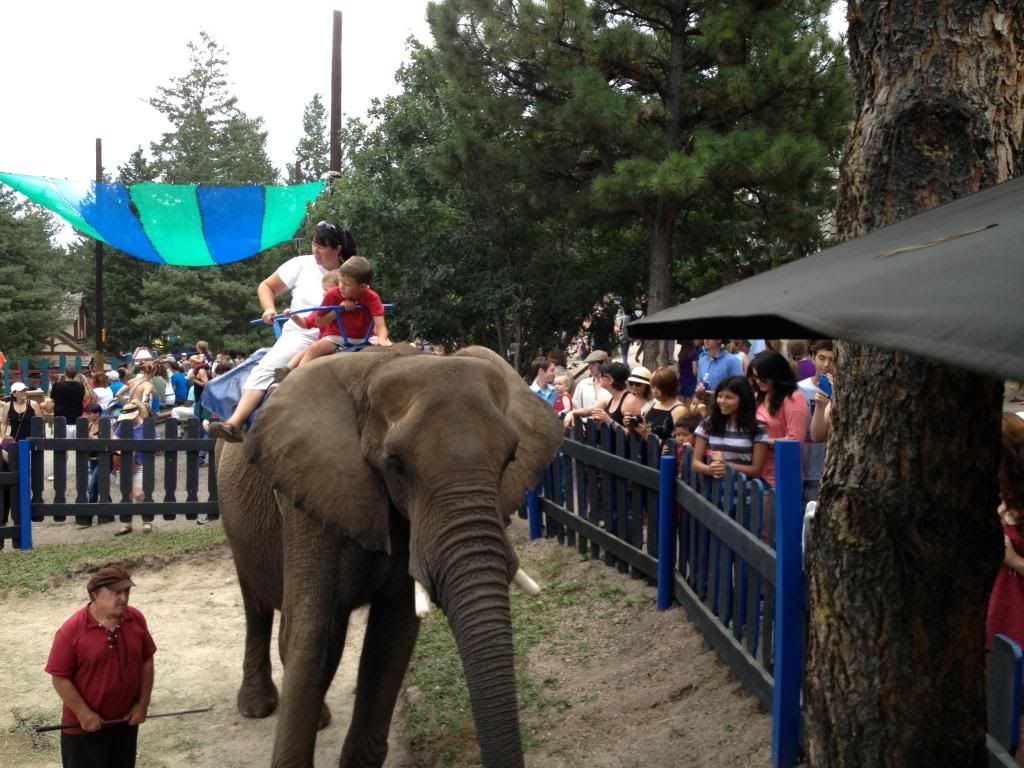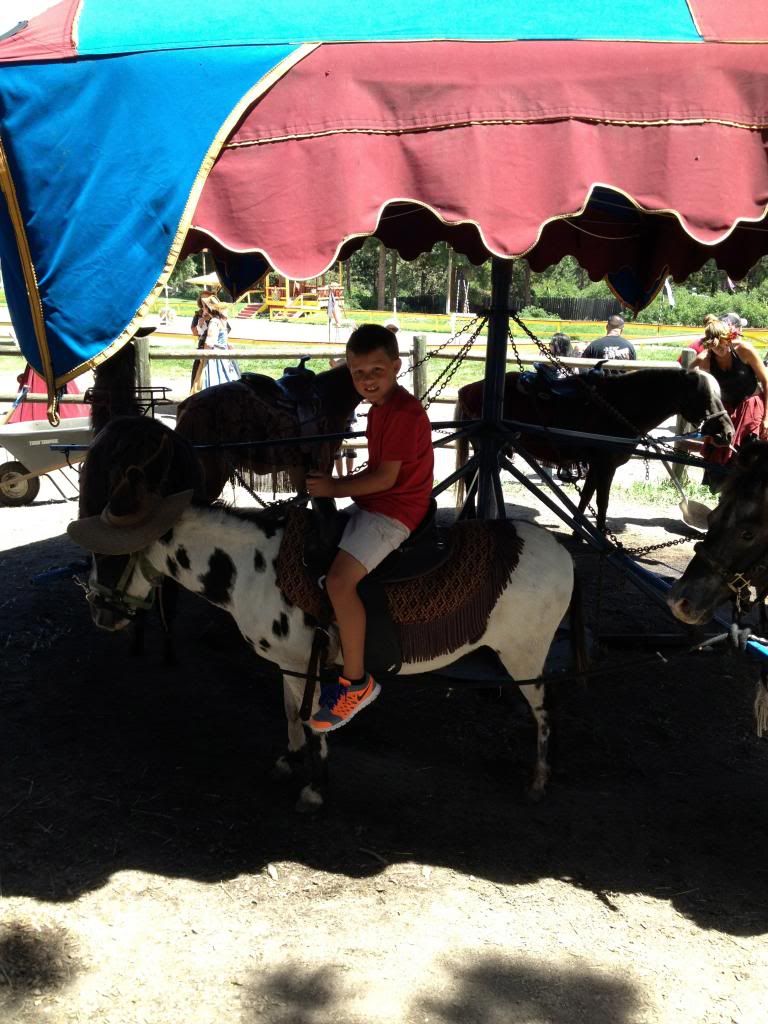 Everyone enjoyed the delicious authentic food. Andrew said this of his meal of a dill pickle and steak on a stick, "This is my PERFECT meal!"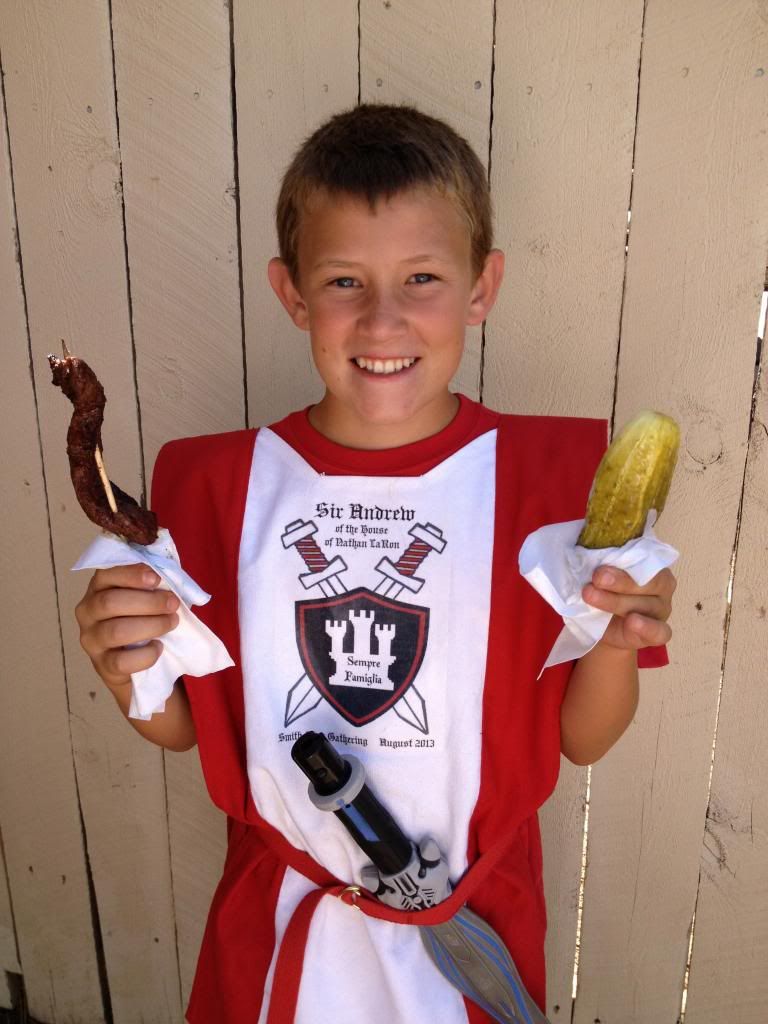 Somethings were just down right frightening. (They are trying to look scared.)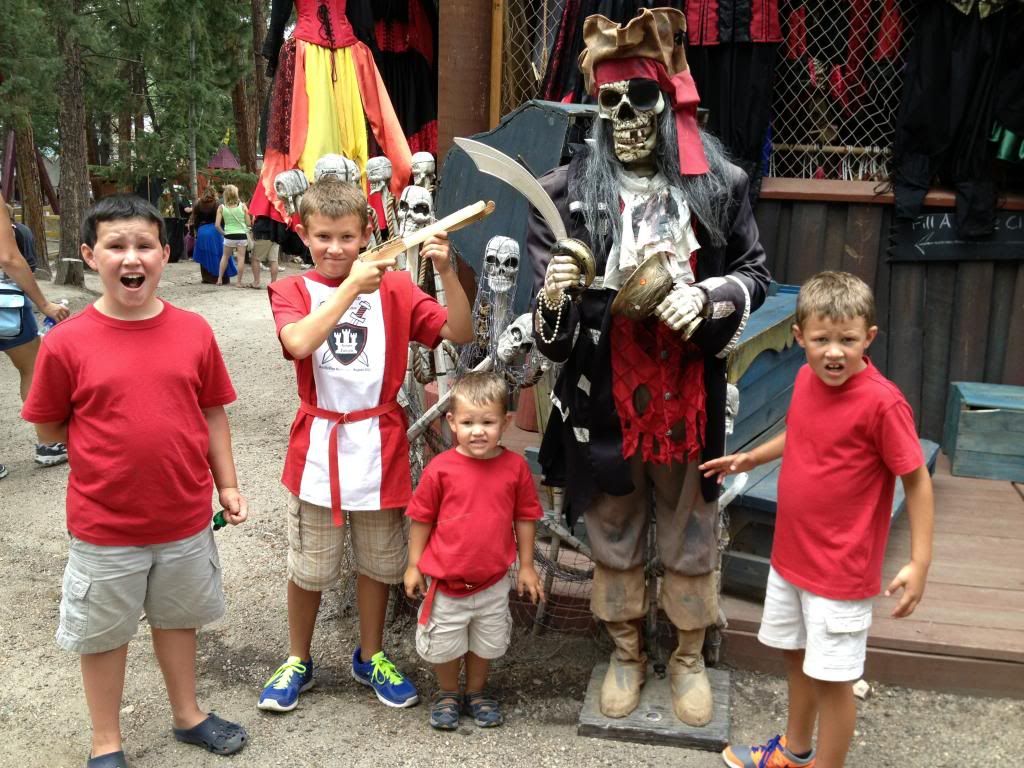 We all LOVED our day at the Renaissance Fair!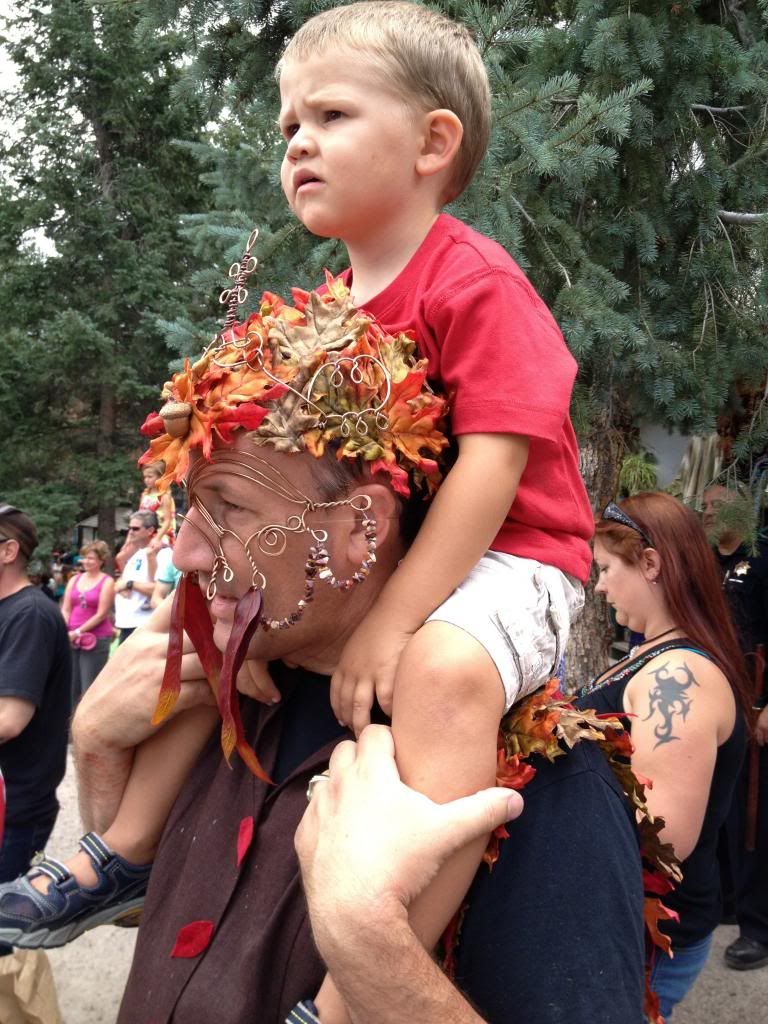 The next day we had a talent show. Sarah and Andrew played the piano. Spencer told jokes. Benjamin danced to "Gold" and Levi danced to "Dynamite". The other cousins showed off their talents as well and it was great for everyone to share and see the talents of others. Our Grandma read the book,
The Knight and the Dragon
to everyone and then gave each family a copy of the book so that we will remember the fun we had together at the Renaissance Fair.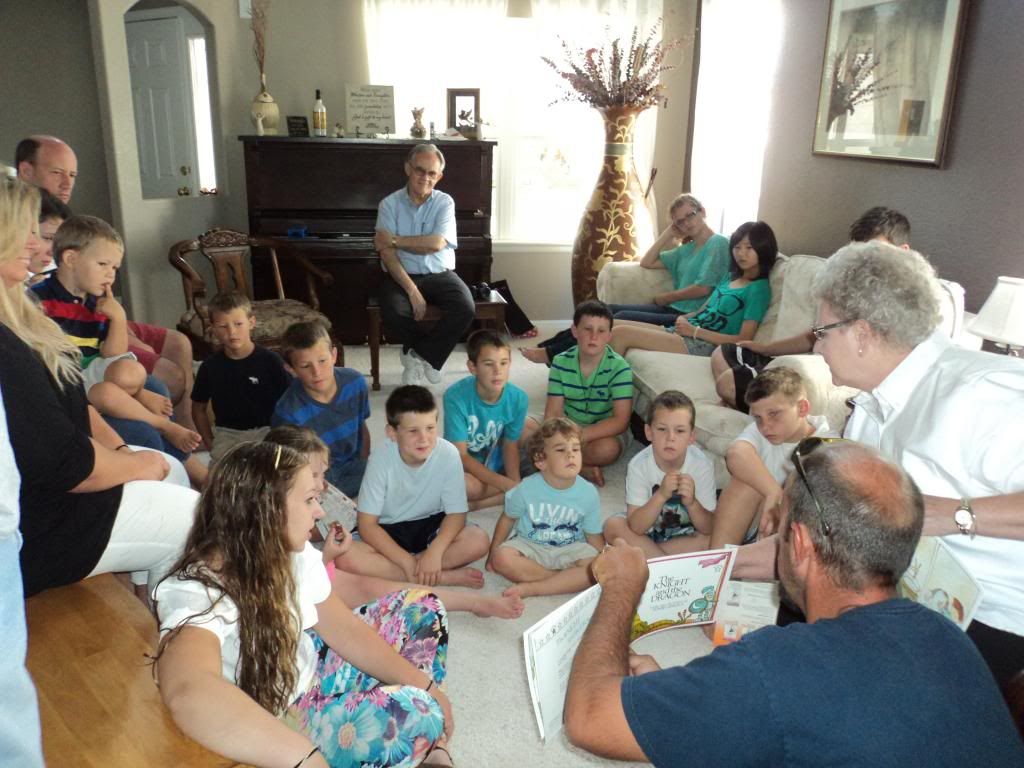 Later that day we went to a Dinosaur Museum.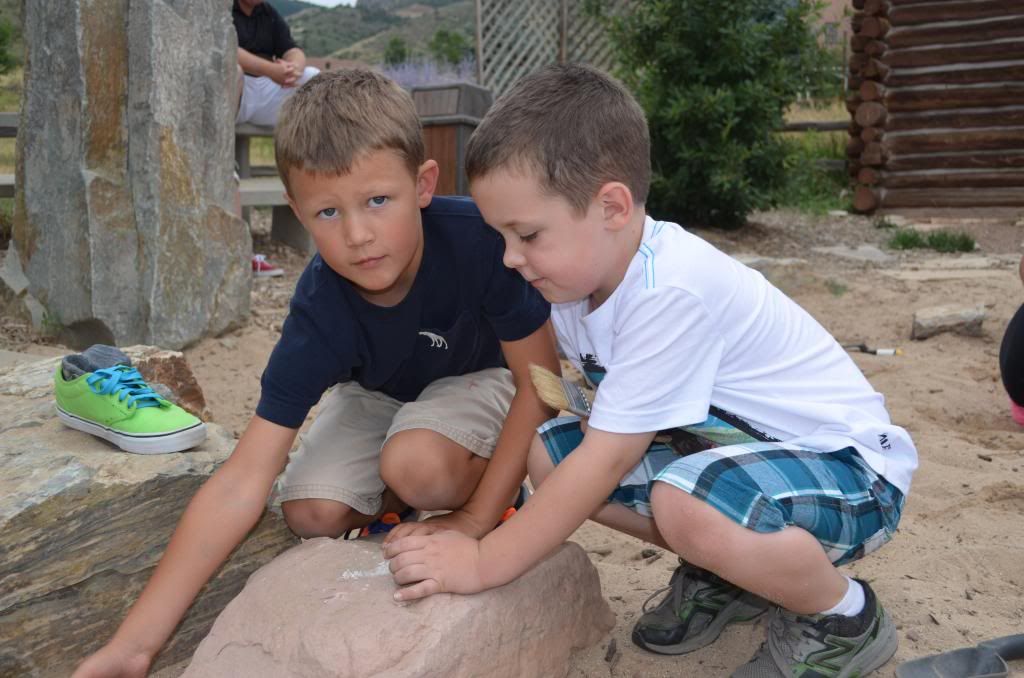 The following day, we spent the whole day at
Elitch Gardens
in downtown Denver. This experience was definitely a favorite among the kids! There were so many fun rides to ride and the lines were short so we could get off and get right back on most rides. Our bigger kids were super brave and went on the really scary rides with all of their cousins.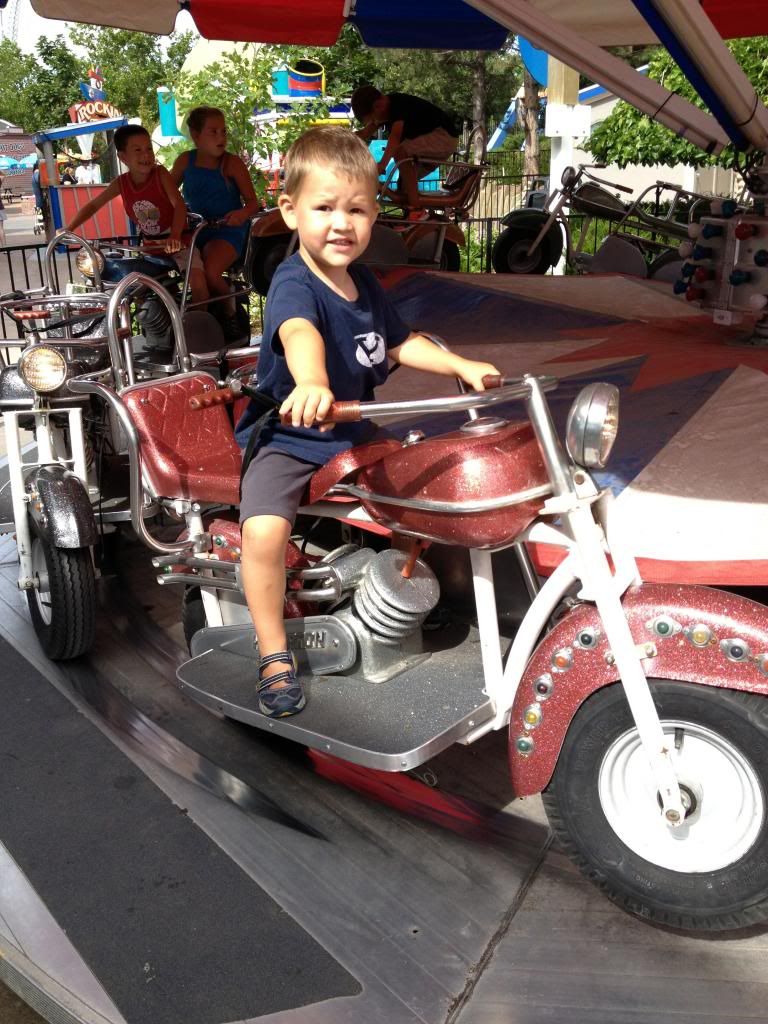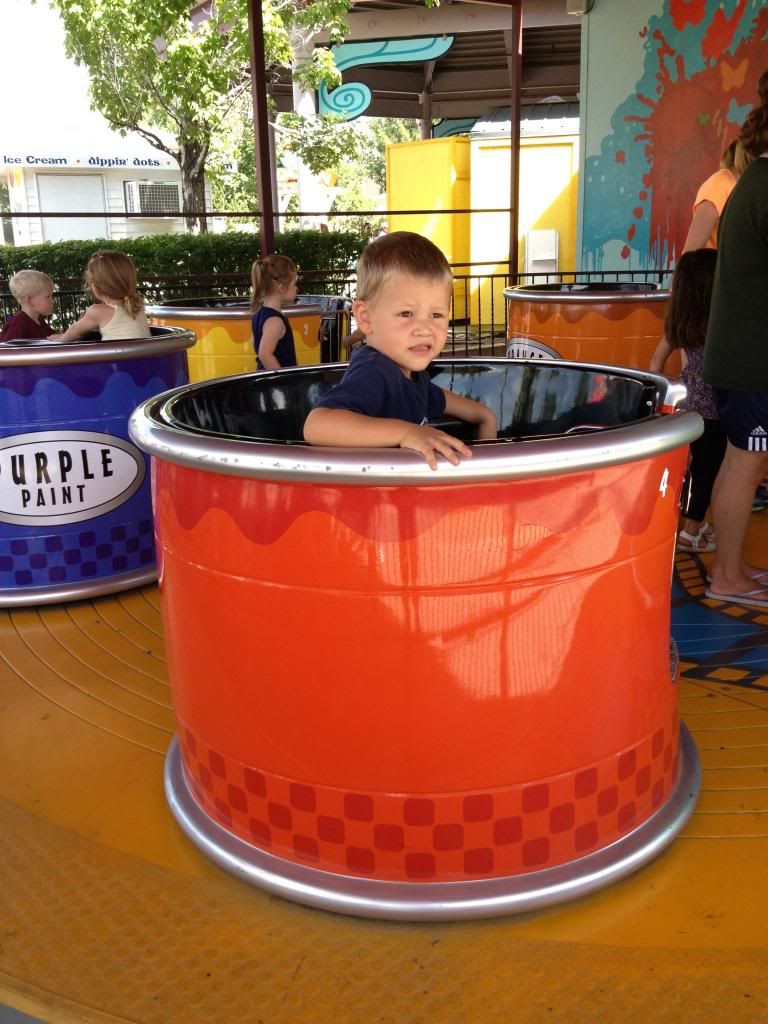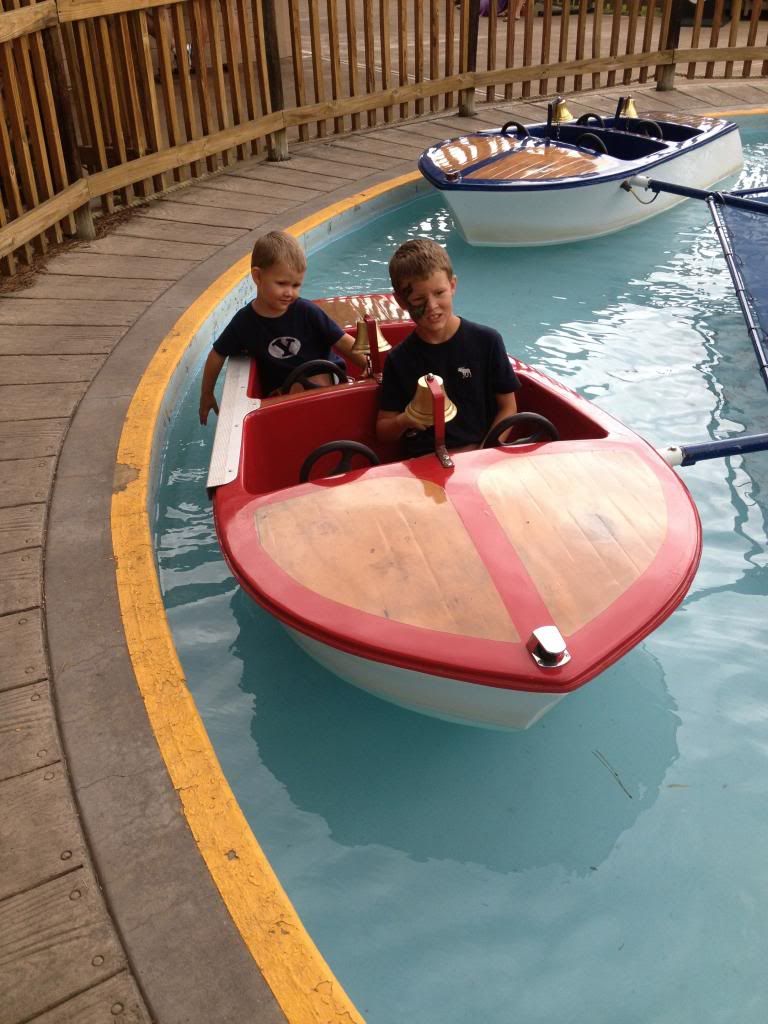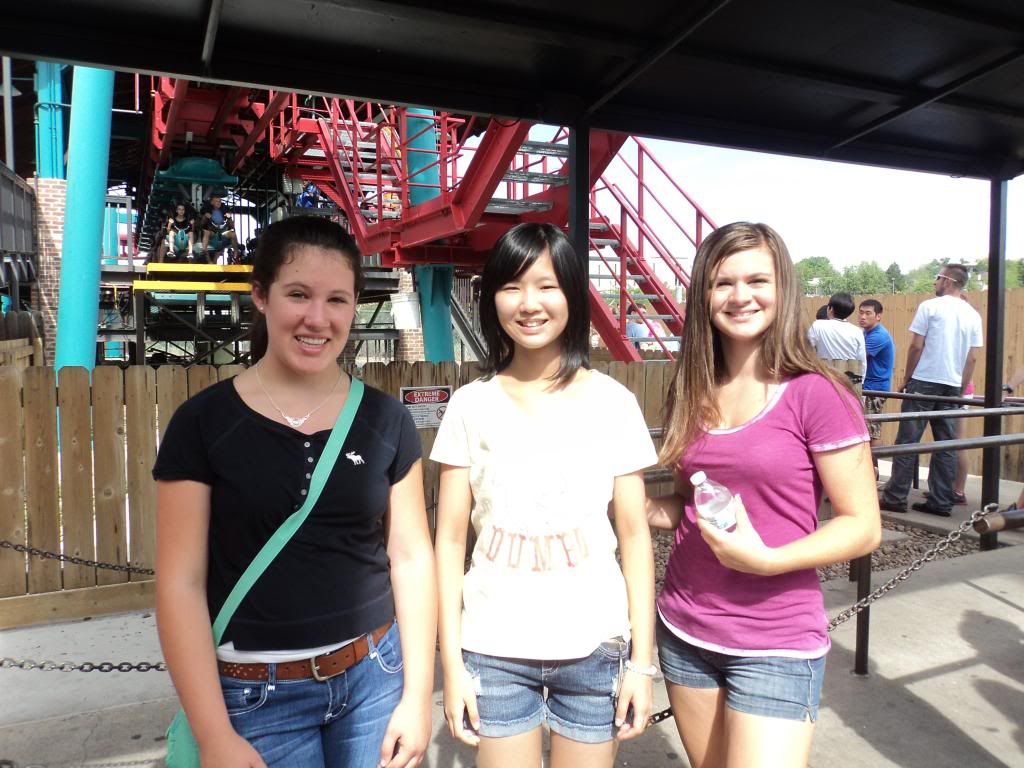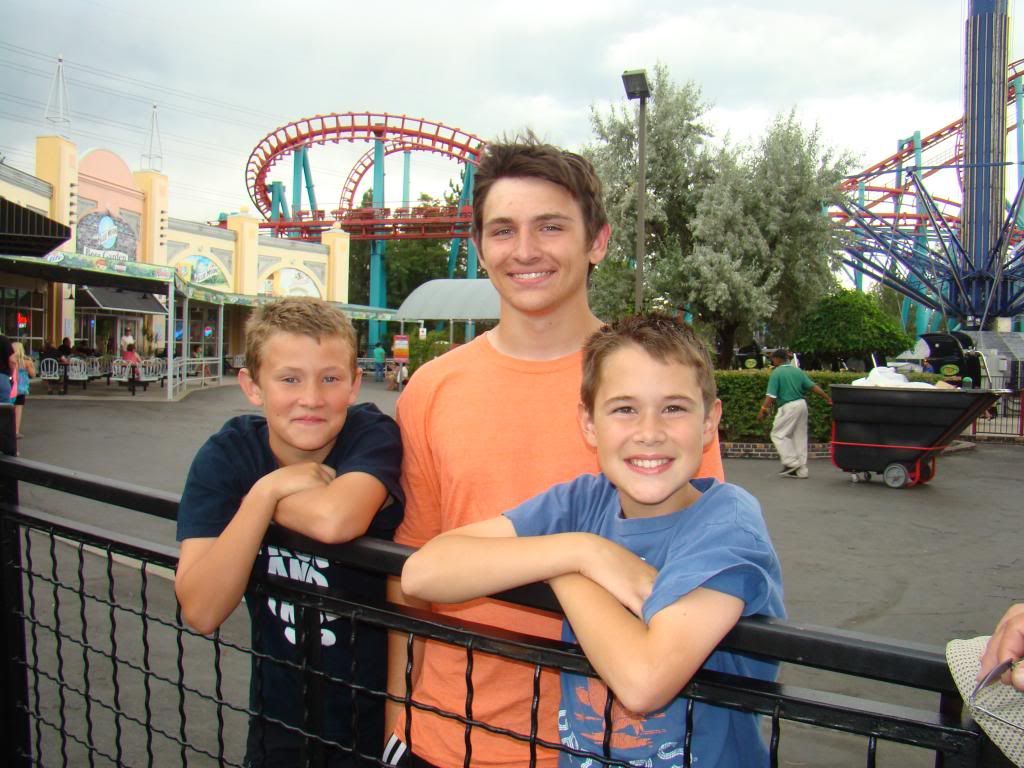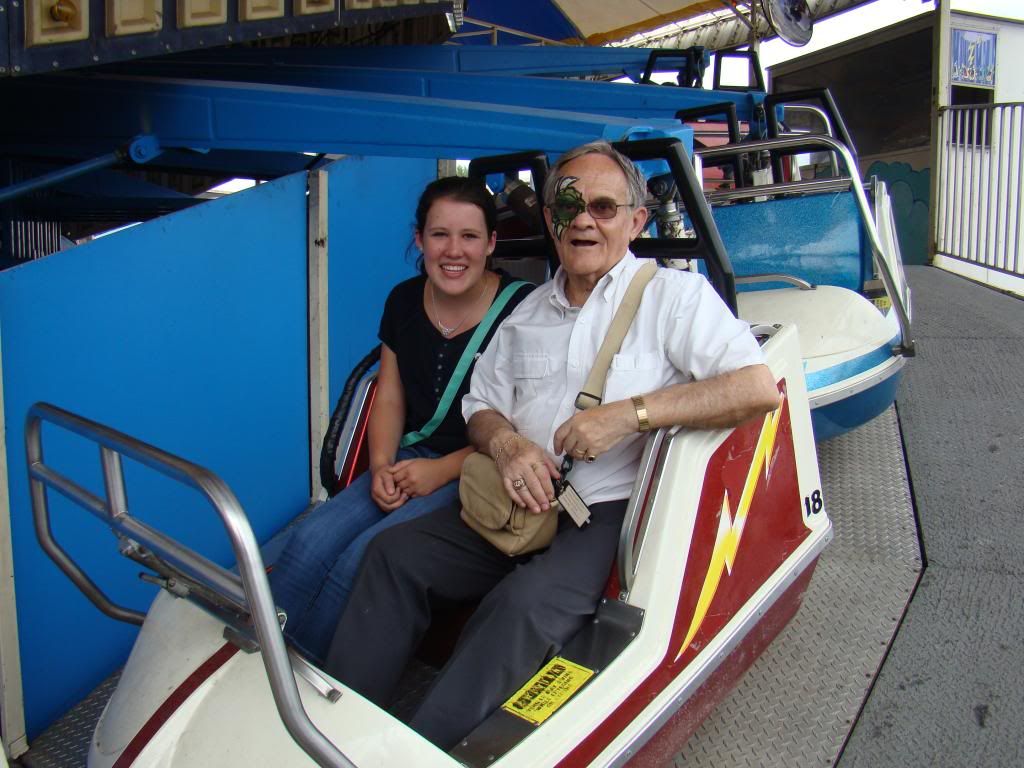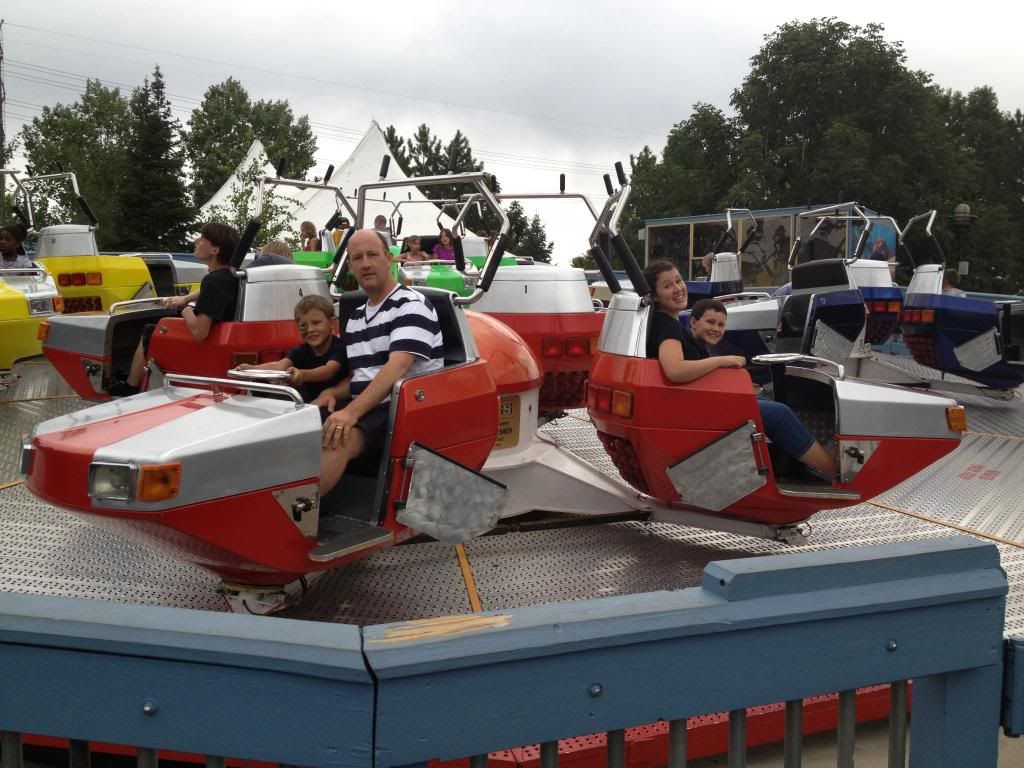 Benjamin and Grandpa both had their faces painted.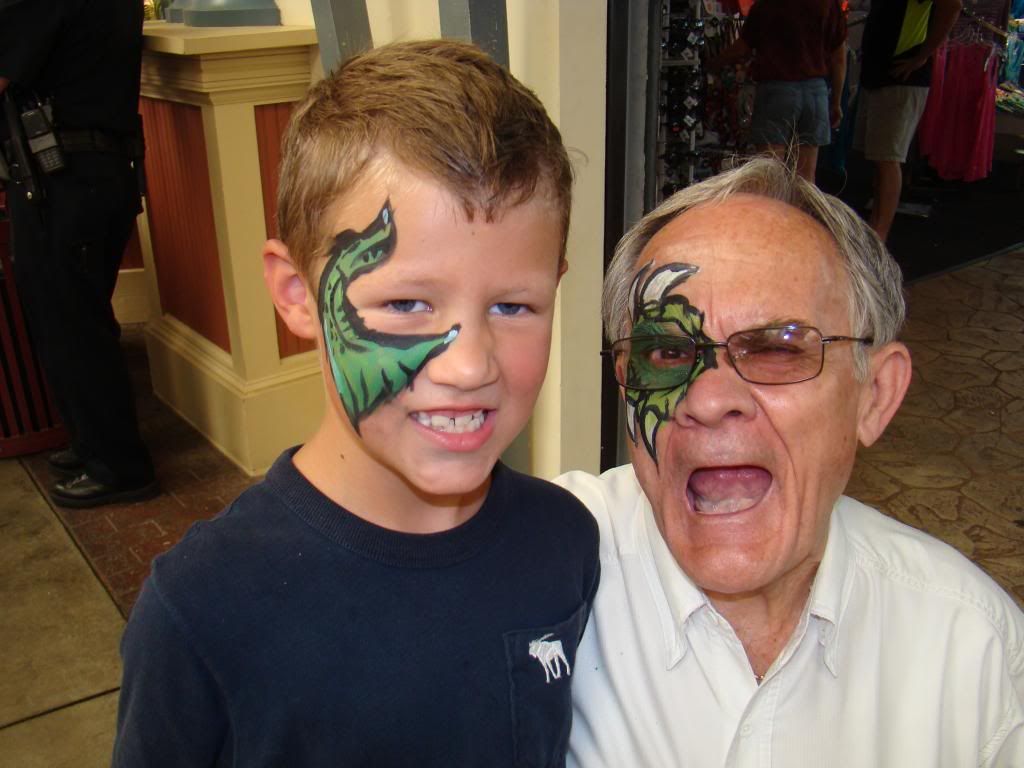 Sarah had an artist draw her.
Spencer spent the afternoon with his cousin Elizabeth and Aunt Katie at the water park inside Elitch.
We watched a pretty cool motorcycle show.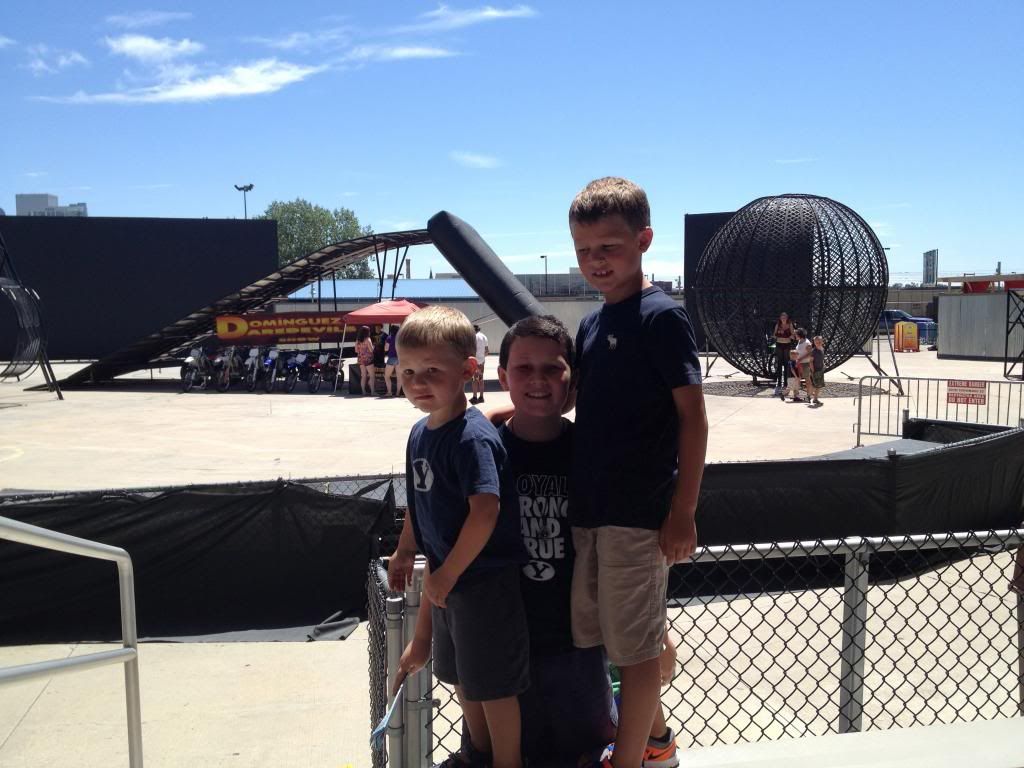 Right before the park closed a bunch of us went on the water rides and got drenched.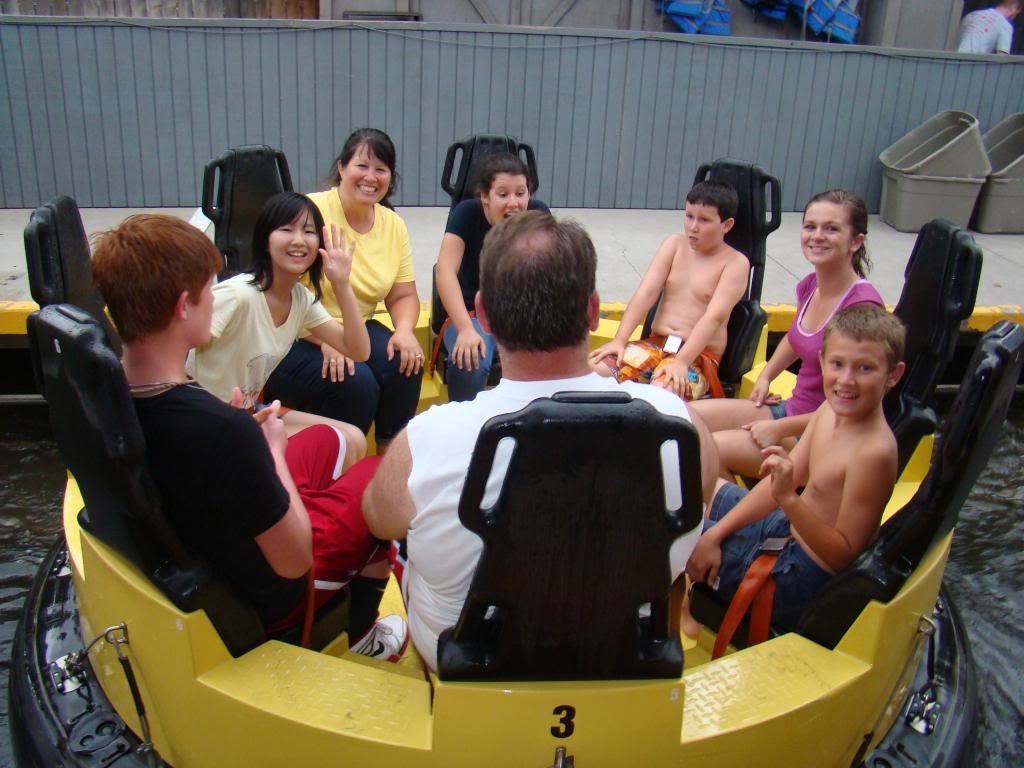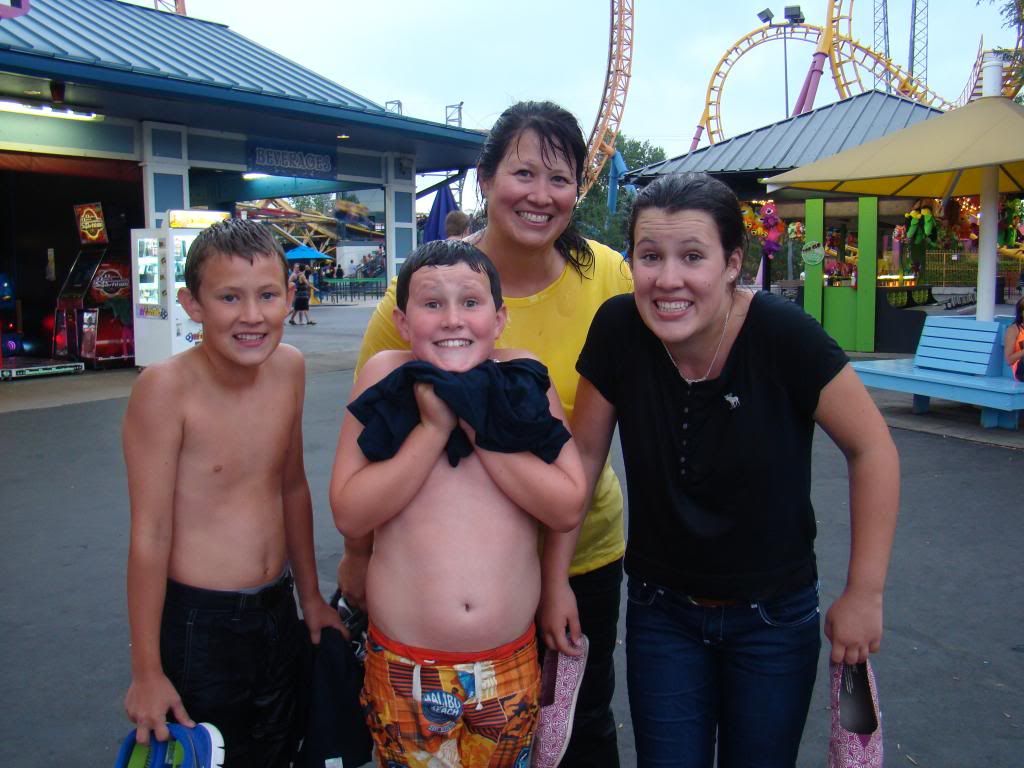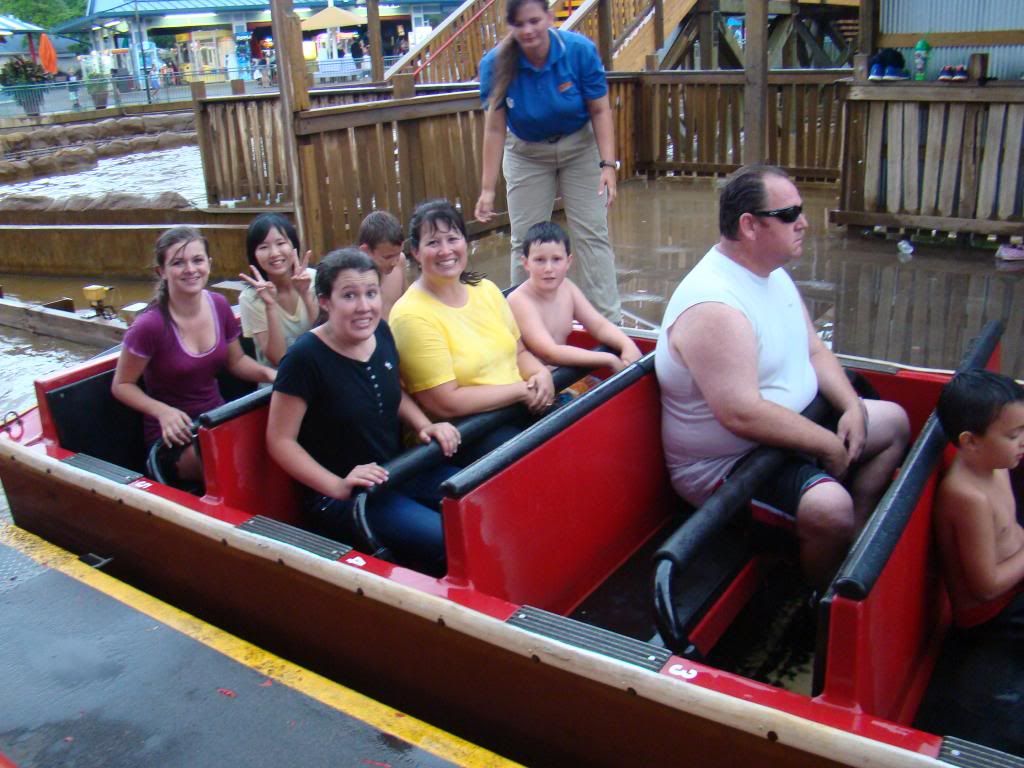 We LOVED our day at Elitch Gardens!!!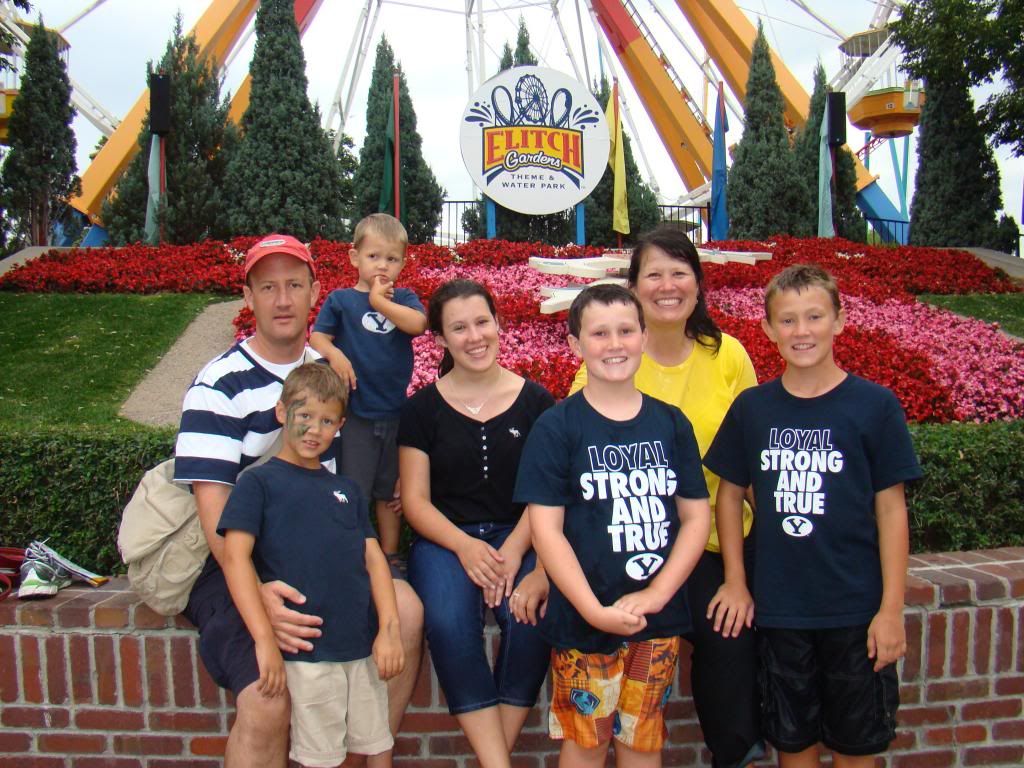 On our last day of the reunion we went to the
Argo Mine
in Idaho Springs. I love going places and feeling that I really learned something. That's how we felt when we left Argo Mine. We walked to the end of a mine and saw gold and other minerals.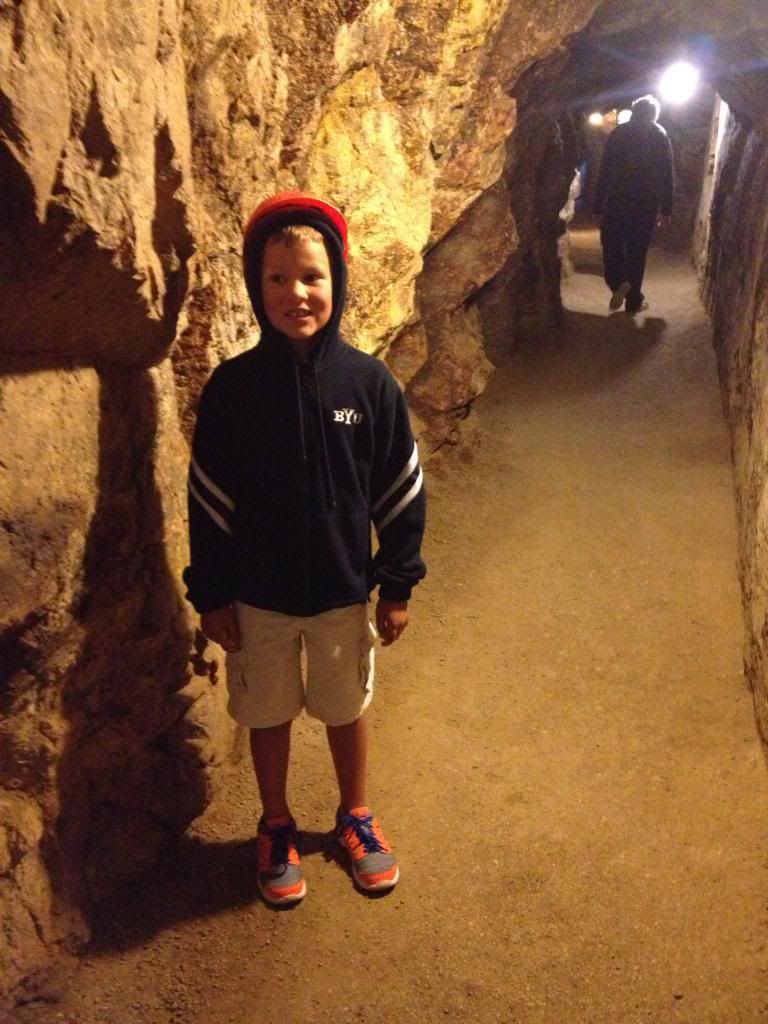 This is a great picture of the Mill where gold ore was processed.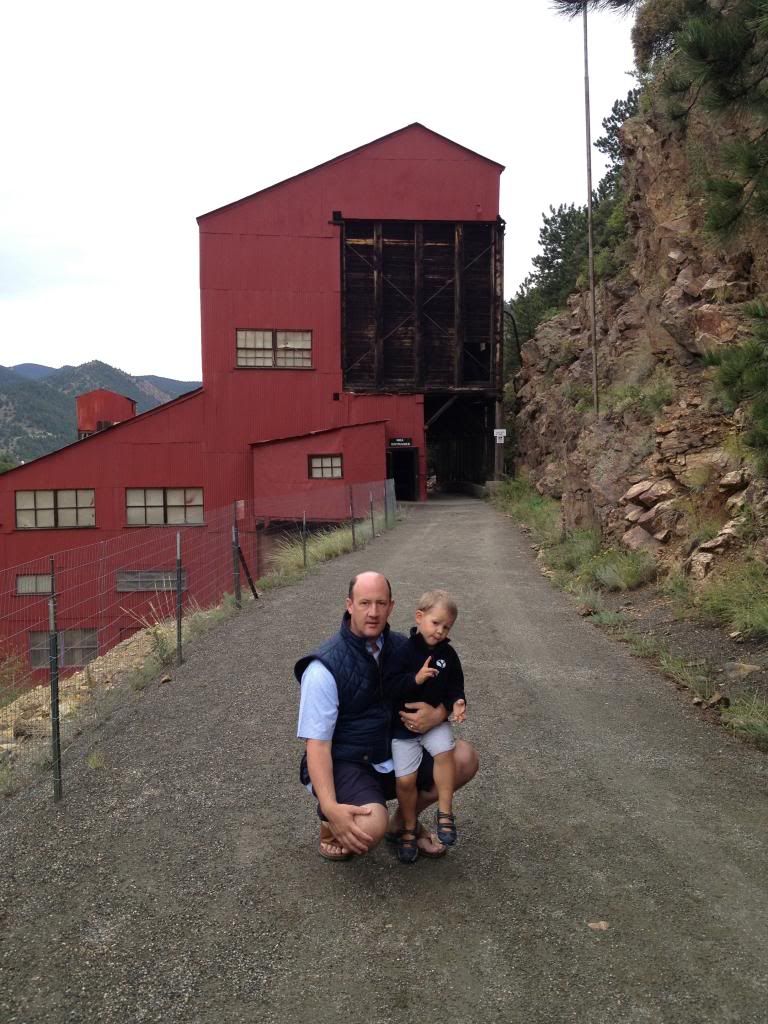 This is what the inside of the Mill looks like.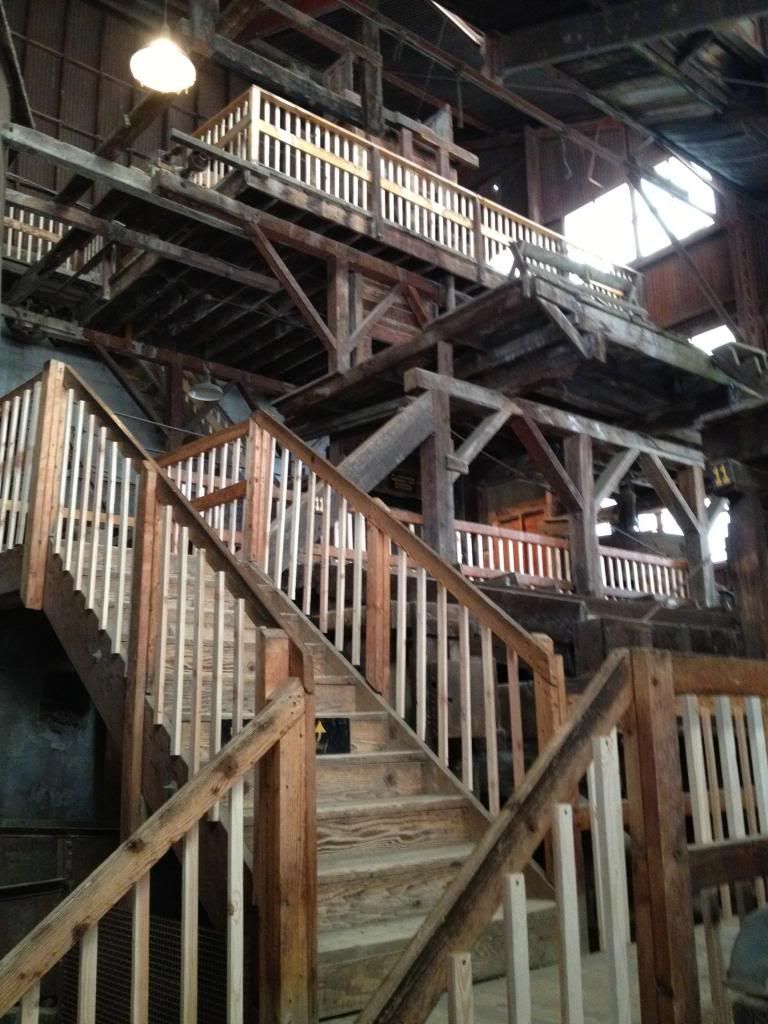 At the end of the tour we mined for gold.
Later that same day, the kids stayed at home and had pizza and watched
Teen Beach Movie
while the adults went to the
Heritage Square Music Hall
. We had dinner and then watched a play.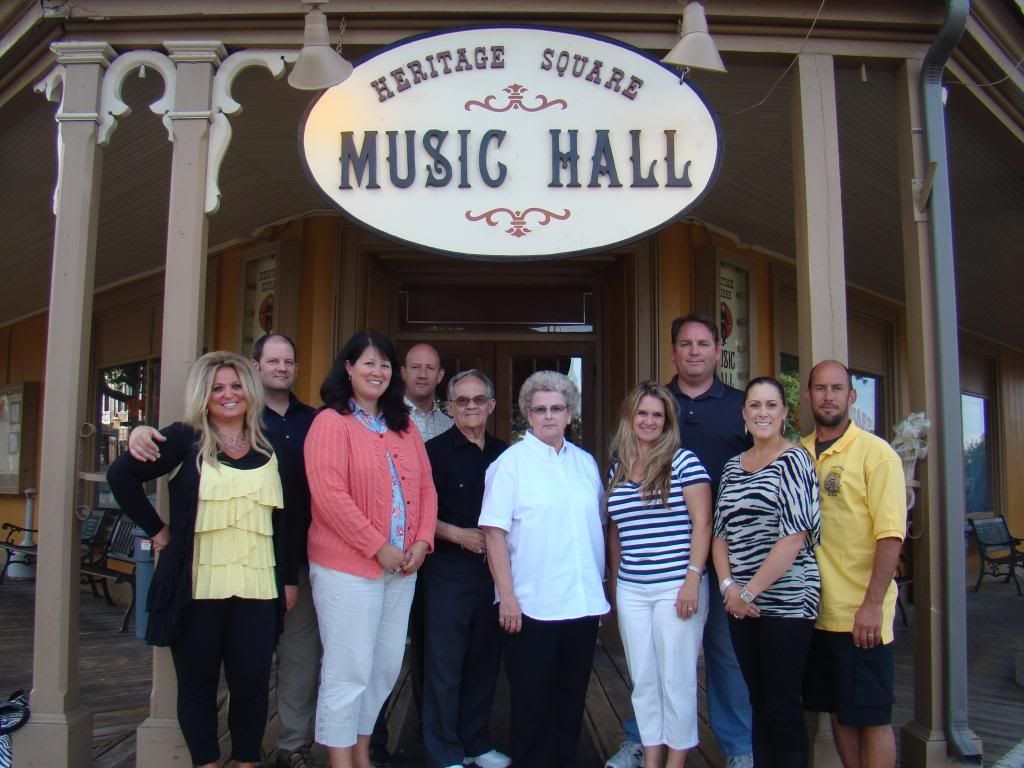 As you can see, it was truly an amazing time with family. Thank you Grandma and Grandpa for memories that will last us forever! Also, a HUGE thank you to Rob and Katie for being fabulous hostesses, letting us all crash your house, and for giving Nathan and I the perfect vacation! (All of our kids stayed the night at Katie and Rob's while Nathan and I stayed at a hotel. Yes, it was absolutely dreamy!!)