Andrew had a birthday! He's the BIG 13 now and that means in our family that he can watch PG-13 movies. He decided to stay up until midnight and then start watching PG-13 movies. He watched them all night long until the rest of us woke up the morning of his birthday. He chose waffles and eggs for breakfast and then he opened presents. He got an iTunes gift card from Sarah, a hat from Spencer, a movie from Benjamin, a kendama from Levi and money from Grandparents, Nonnie and mom and dad.
Andrew wanted to spend his day at the mall shopping and having Panda Express for lunch. He bought a new plaid jacket, Vans and a couple of pairs of
Stance socks
with his birthday money. He was amazingly alert and happy considering he'd been awake since the day before but after a full day of shopping, we went home for a bit of down time. This is when Andrew crashed and when I say crashed, he really crashed. He fell asleep on our bed and was out cold for several hours. We tried to wake him up for his birthday dinner, but he wandered around not making any sense and then crashed on the couch. We tried waking him up later to eat his birthday treat of donut holes but he just mumbled a bunch of nonsense and rolled over. We were all pretty disappointed with not being able to celebrate him but when we asked him the next day, he said it was the best birthday ever. He loved watching movies all night long and didn't care that he slept through the evening of his birthday.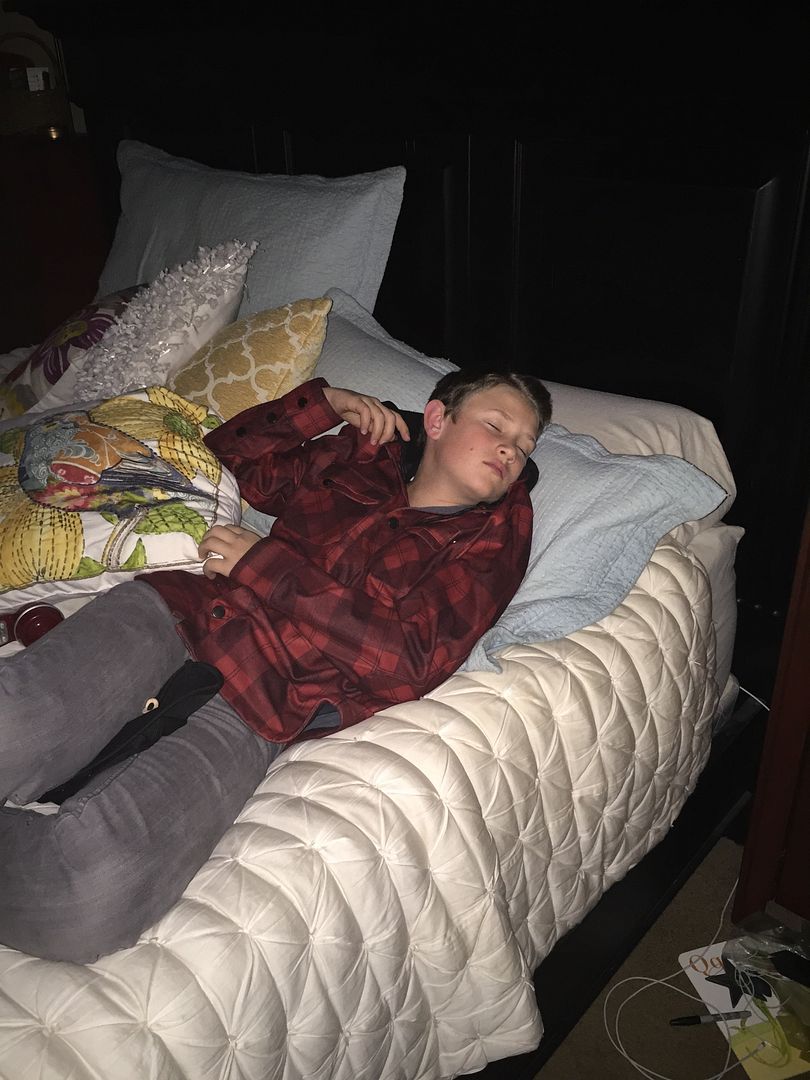 Two days later, he had four friends over for pizza from Guido's. They played ping-pong and the WiiU and watched Teenage Mutant Turtles with lots of popcorn and candy. He got many nice gifts and enjoyed finally blowing out those 13 candles.
Thirteen things about Andrew...
1. He plays the piano really well.
2. He has a great sense of humor.
3. He's working on getting his Life in scouts.
4. He's really good at the kendama.
5. He loves teasing his brothers.
6. He's a very hard worker!!
7. He loves jerky and candy. Too things he's not supposed to eat with braces.
8. He's serving as 1st counselor in the Deacon's quorum.
9. He's a great student...straight A's!!
10. He loved playing football in the Fall and can't wait to play lacrosse this Spring.
11. He really likes the show Domesday Preppers and likes to tell us about it.
12. He is tender-hearted and kind.
13. He is really fun to hang out with!
Happiest of Birthdays, Andrew! We love you!!