I had planned and talked about our trip to the Redwoods for months. It was going to be the best vacation of the summer! I had done plenty of research to know what we should do along the way and what to do when we got to the Redwoods. I had arranged to rent a trailer in Bend and had reserved the perfect campsite at Patrick's Point on the Northern California Coast in the Redwoods. I knew it was going to be a vacation we'd always remember!
Our first stop was to pick up our trailer. I had reserved it months ago and was told I needed to make sure that our car had a special brake system. I thought we had the brake system but as it turned out, we didn't so luckily they had a smaller trailer that we were able to rent. We hurried back to my mom's house, picked up a tent, pads and sleeping bags since the trailer wouldn't sleep all of us. No problem, we were still ready for a grand adventure.
Our first stop was Crater Lake just a couple of hours south of Bend. It did take us a bit longer to get there and since we had had a later start in the morning, I was getting a little nervous about getting to the Redwoods before dark. (Our brake lights worked on the trailer but the lights for night driving didn't. A fuse or something wasn't working on our car...the trailer was fine.) So, we got out at Crater Lake, admired the beauty and wonder of it, ate lunch and then got back on the road. Oh, and there was about half an hour road construction around the rim of the lake so that added some time to our travels so I didn't feel that we had time to do a hike down to the water.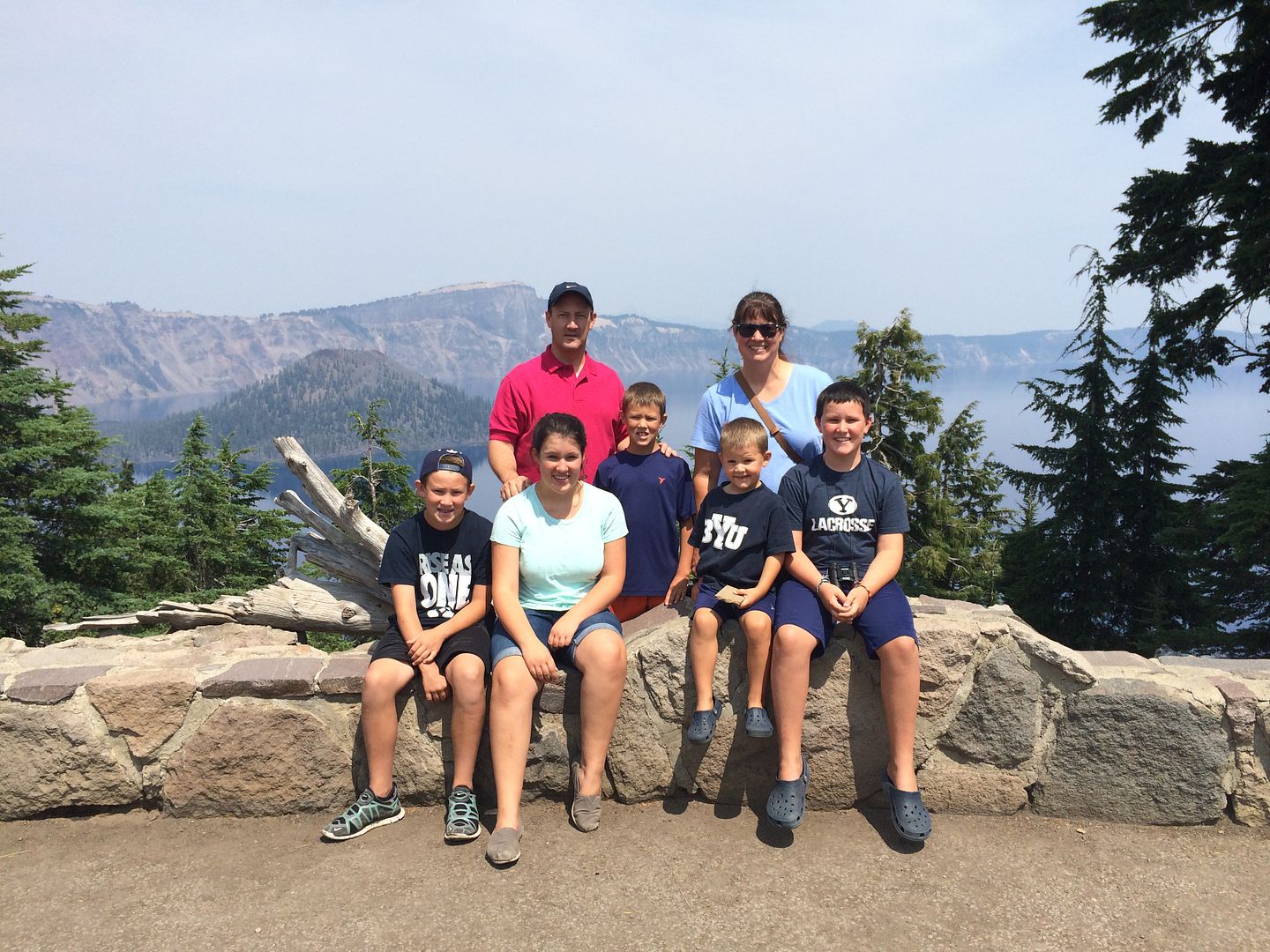 The only "big city" along the way was Grants Pass, OR and for some reason (inspiration) Nathan thought it would be a good idea to eat dinner there before going on. It was only 4 in the afternoon and we still had a long way to go, but we stopped at Taco Bell and had dinner. We didn't take long because I was really antsy to get there. We were soon driving along outside of Grants Pass when our car started having problems and then not long after that, it didn't have any power. We pulled over and tried both reverse and drive but neither worked. We said a prayer and then I called AAA. They said they would send out a tow truck as soon as possible. It took about an hour for the tow truck to rescue us. Ron picked us up and was able to take our car and trailer. Ron, our tow truck guy was really nice and had even called ahead and reserved us a spot at the local RV park. Nathan had felt impressed to have the car towed to a dealership although my mom had texted us the name of a mechanic in Grants Pass. We had to wait awhile for a taxi to come pick up Nathan, Sarah and Andrew since we all couldn't fit in the tow truck. Ron wouldn't leave them until the taxi arrived - he really was a nice guy!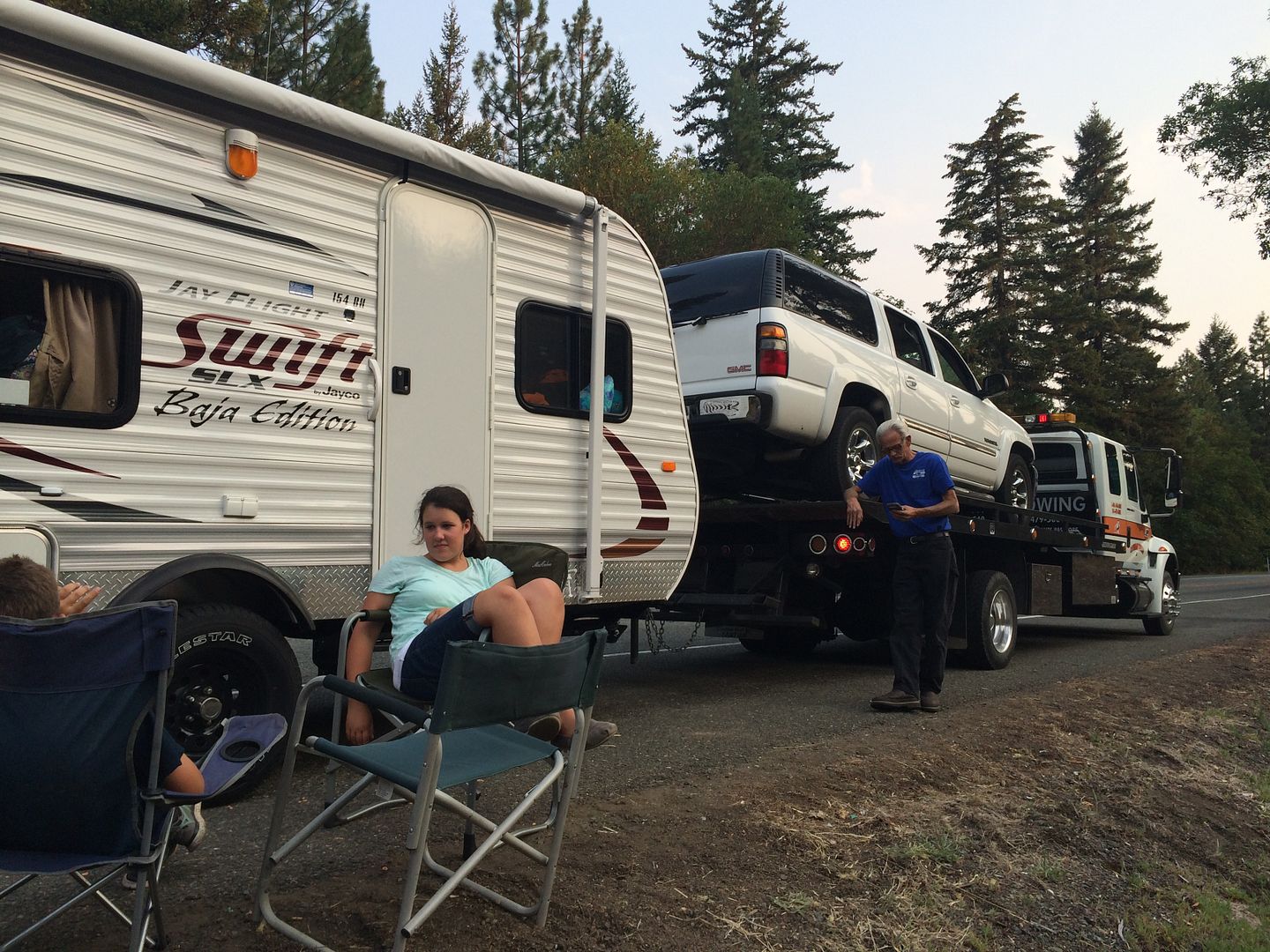 We drove into the RV park just before dark. Ron unhooked our trailer and Nathan went with him to the dealership to drop off the car. I was greeted by the man at the RV park and was asked to pay $32.50 for our night's stay. He told us about the "Comfort Station", showers and bathrooms. I sent Andrew and Spencer to walk around to see if there was someplace for them to play (there wasn't) and since there wasn't anything else to do, they played Monopoly in the comfort station until Nathan got back. We set up the tent and then settled in for the night.
The next day, Nathan got up early in hopes that being at the dealership when it opened would help with getting our car in sooner to be looked at. The kids mostly hung out at the comfort station playing games, working out on the pilates machine and watching Disney XD. During sometime in the morning I got the news from Nathan that it would cost around $3500 to have our car fixed (the car was only worth $3800) but that it wouldn't be done until Saturday. That wasn't going to work for us because the trailer had to be returned by Thursday as someone else had already reserved it for the weekend. While Nathan had been waiting for the car to be looked at he had checked out the cars they had at the dealership. On the whole lot, there were two white suburbans. One was older and fancier with one less seat and the other one was newer, not as fancy and had seating for 8. We both said many prayers throughout the day to know what would be best for our family and situation. We were unsure if we would qualify for a car loan as Nathan had bought a new car earlier this year. Our day was full of waiting and praying. When we were finally told that we qualified and got a really good rate, I walked over to the dealership with Nathan to sign the papers. We hadn't told the kids that there was a possibility of a new car because if it hadn't worked out, we didn't want them to be disappointed. After signing all the papers, we drove into the RV park with a brand new (to us) Suburban and the kids were THRILLED to say the least. (Especially since we've never owned a car with a TV in it and this car had two.) It was around 3pm so we quickly hooked up the trailer, said our goodbyes to all the kind people we met at the RV park and headed off to find a movie to watch before setting off for our final destination, the Redwoods.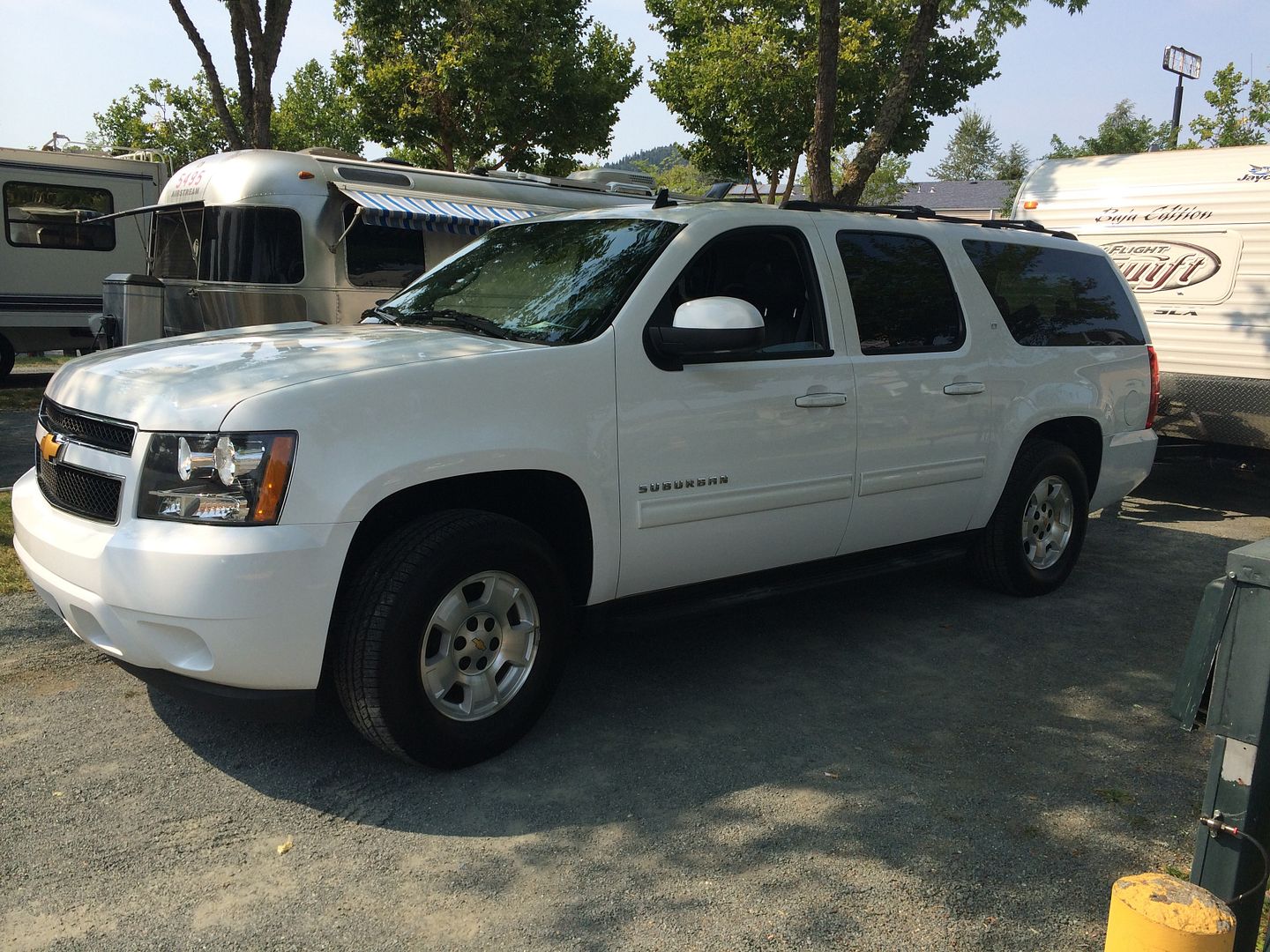 Here is picture of mile marker 17 where we broke down. You can barely see it but we wanted to have a reminder of our time there.
You can imagine our relief when we saw the Welcome to California sign. There were so many times when we wondered if we would ever make it to the Redwoods and we were getting closer. Soon after getting to the coast, we saw LOTS of Roosevelt Elk. They were often right along the highway laying down or grazing. There would always be tons of cars pulled off and we would spot the many cars before spotting the elk.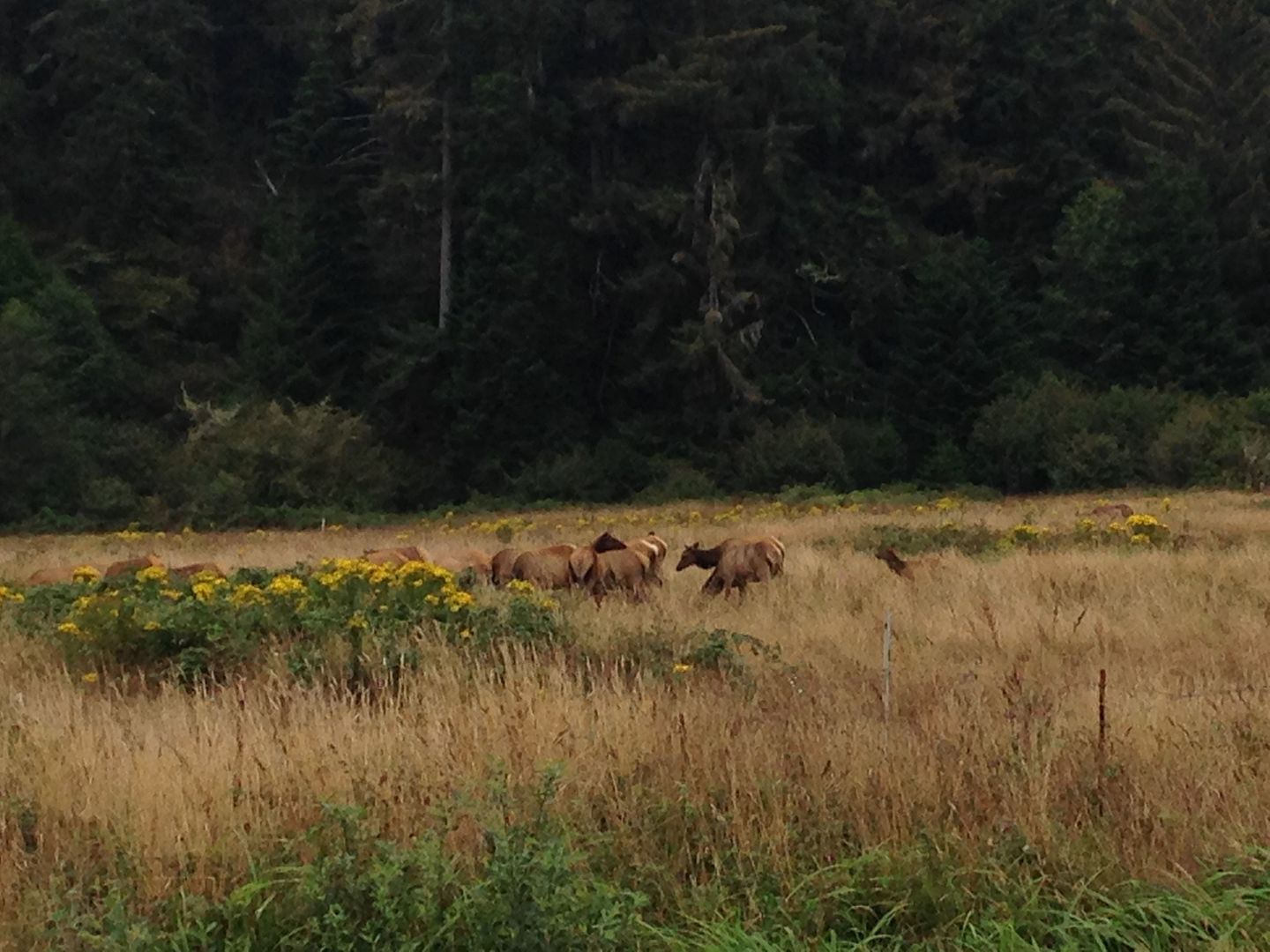 Luckily, Nathan felt another impression that we should stop for gas when we saw this place. We wouldn't have made it if we hadn't had stopped as there were no other gas station along the way. It was very surprising to us that there were no bigger stores along the coast. They only had privately owned, very small (and scary and old) grocery stores. Look at that gas pump. It was just crazy!!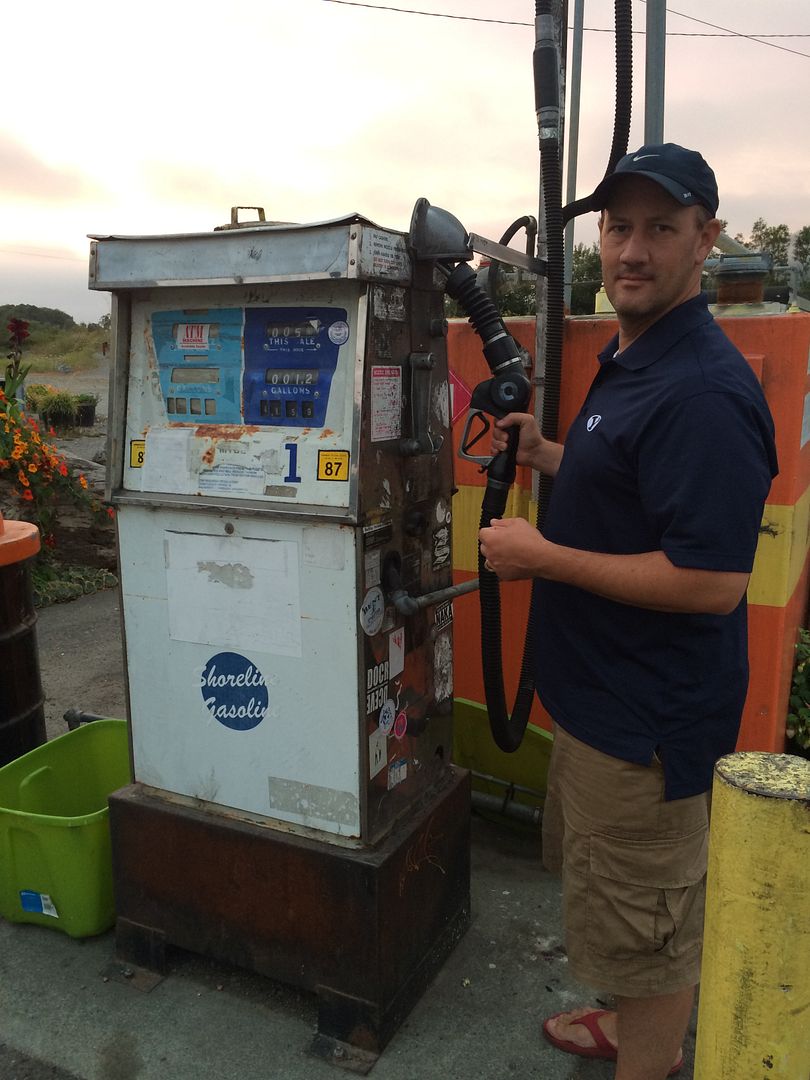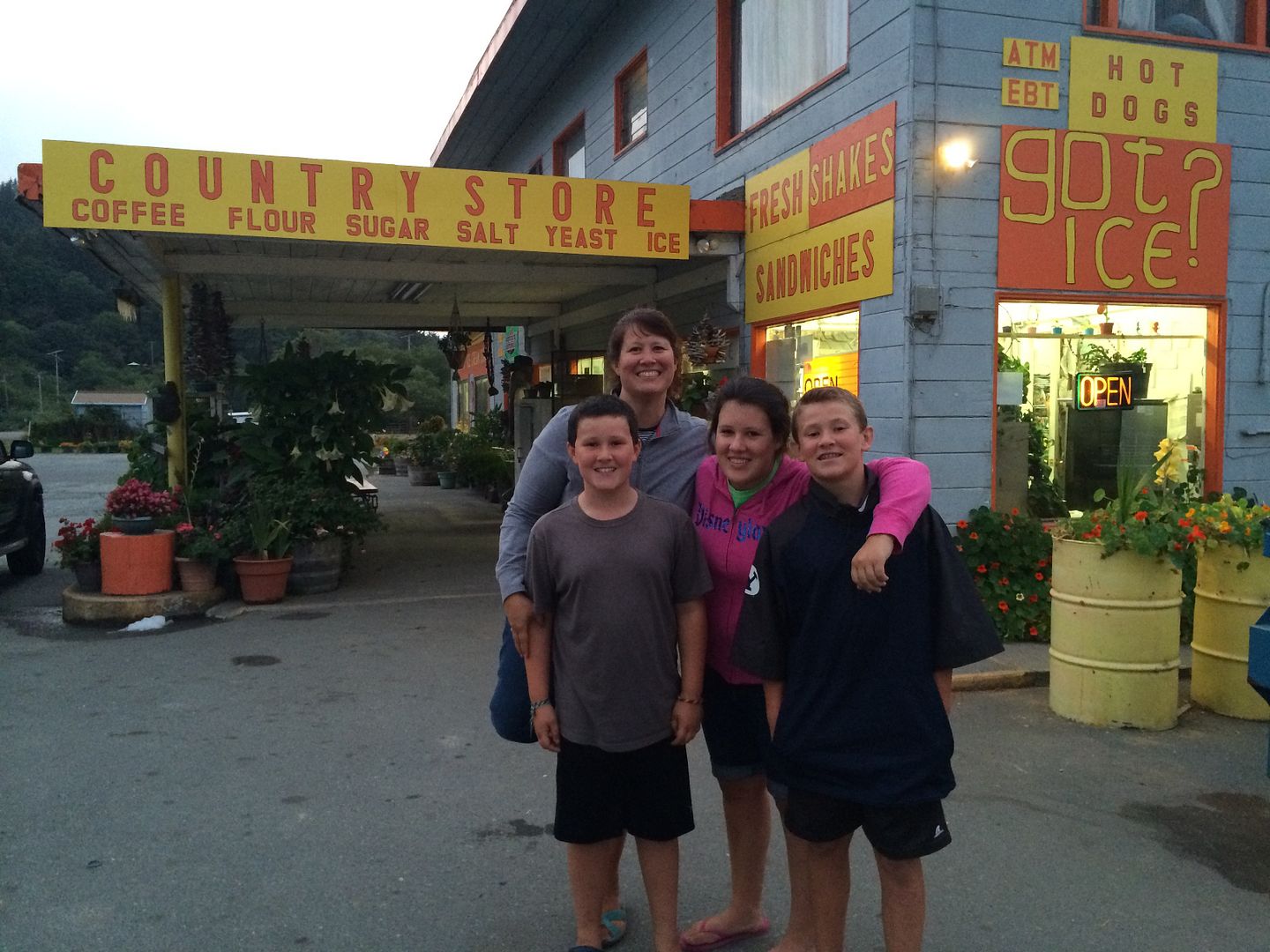 It was dark when we pulled into Patrick's point and Nathan took a picture of the map of the campground with his camera so we could locate our spot. We were number 99 in the Agate Beach Campground.
Since it was late we set up the tent, found the closest bathroom and then settled in for the night as we were all exhausted from our stressful day.
The next morning we were woken up with Levi throwing up and Spencer was soon to follow. Mom, Spencer and Levi stayed at the trailer while everyone else went to find the beach. Here are some pictures Nathan took on the hike to the beach.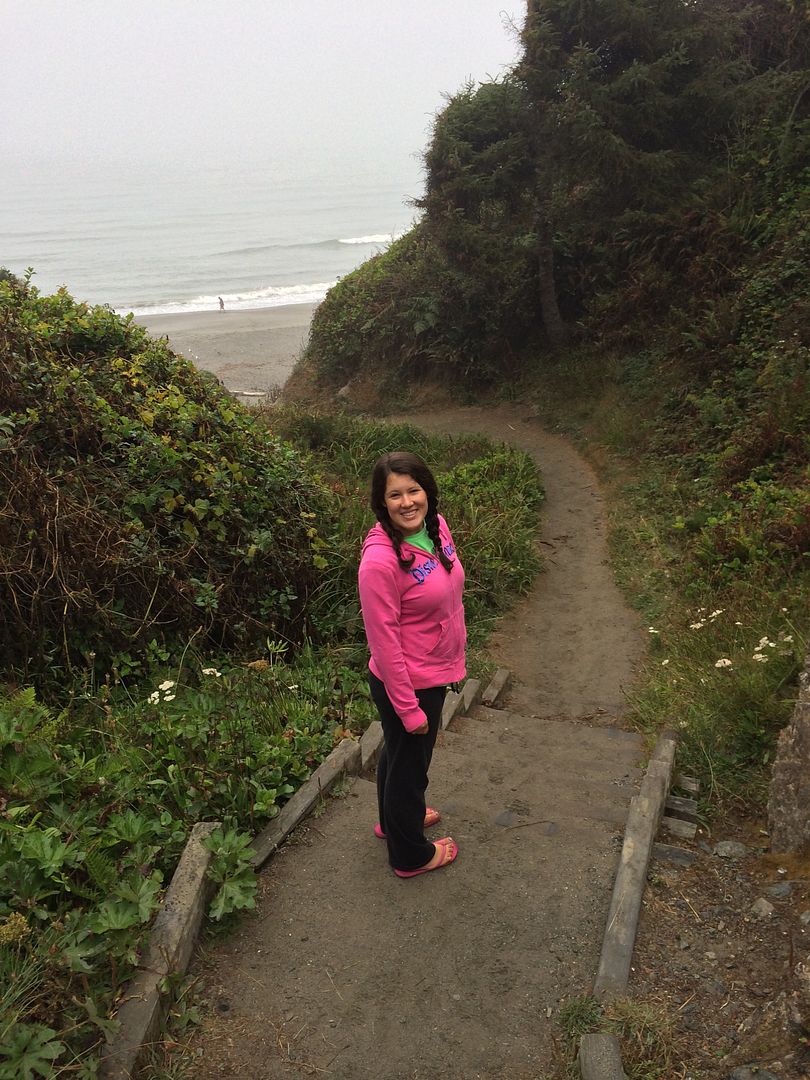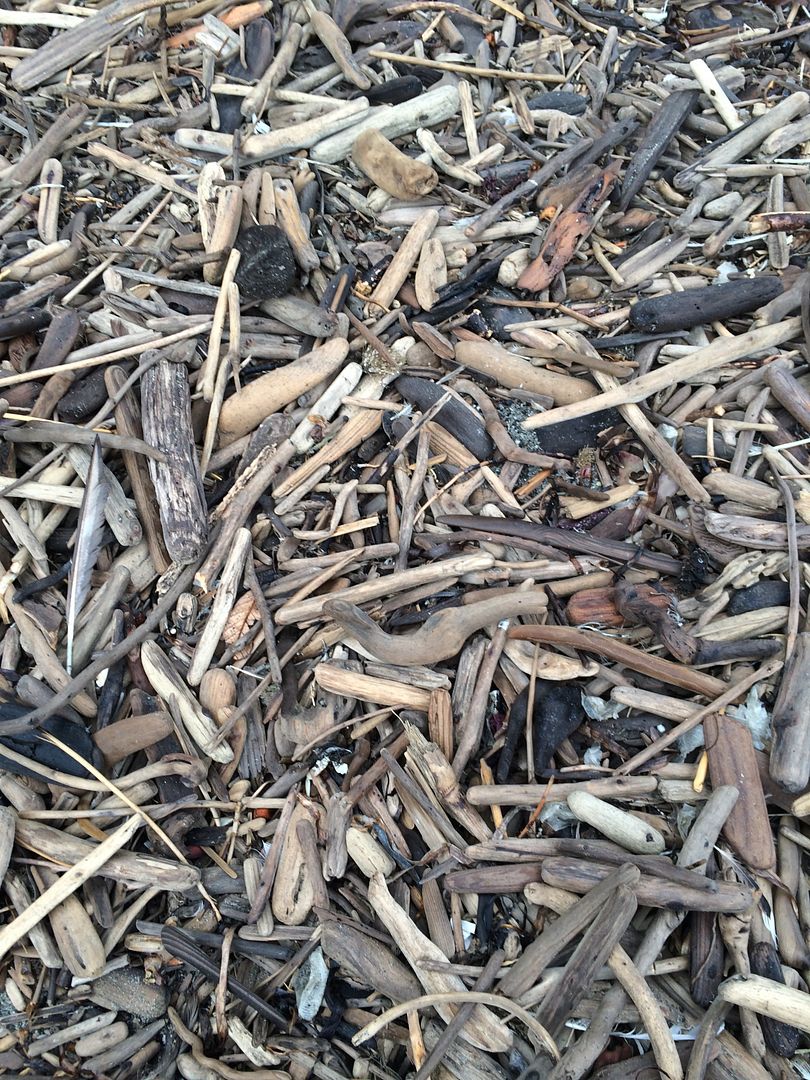 There were bushes of berries and banana slugs everywhere in the campground.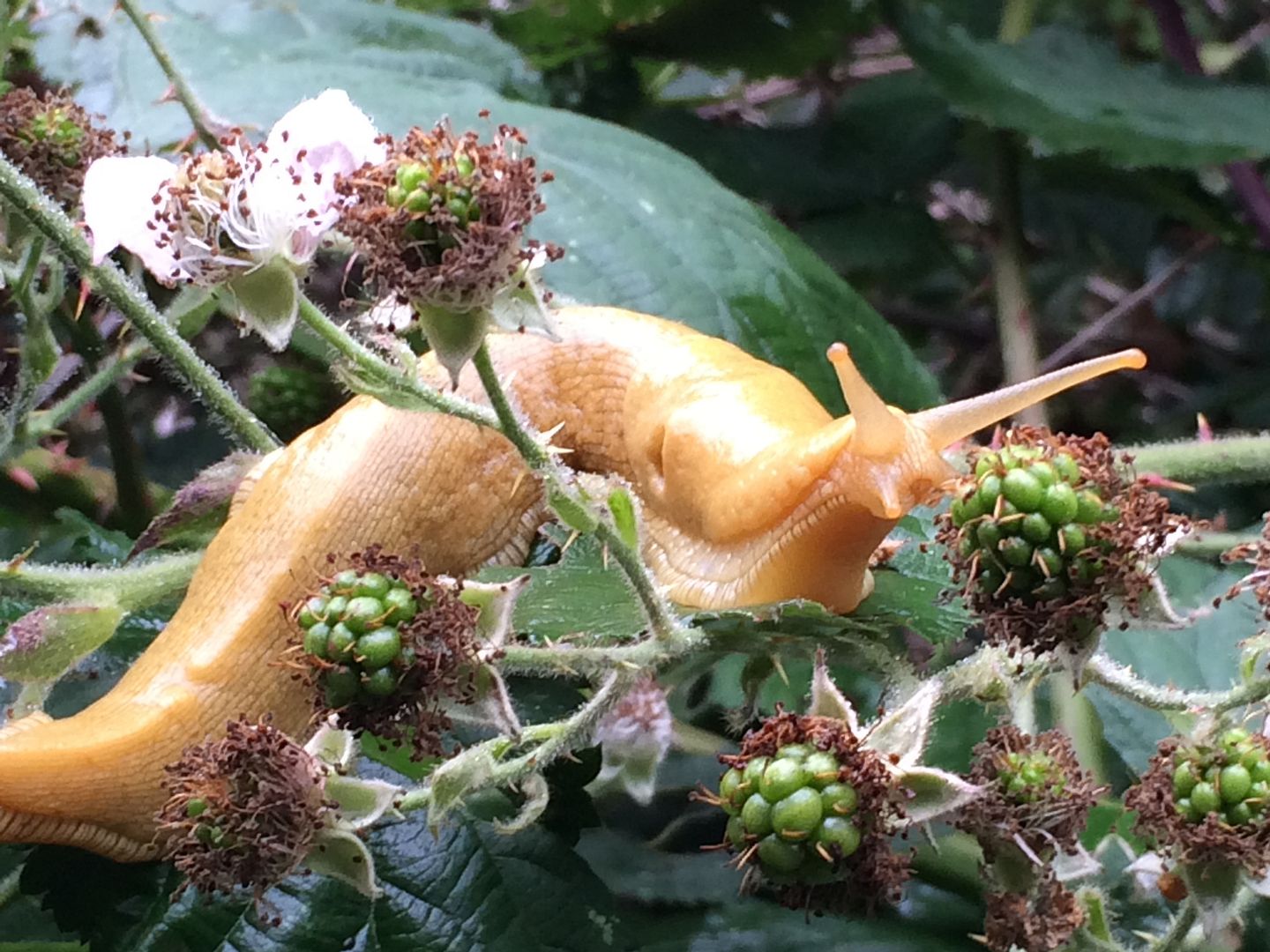 The throw ups subsided by poor Levi had a bad case of diarrhea, so Nathan and I drove to the nearest town of Trinidad and found a small grocery store that sold anti-diarrhea medicine and pull-ups. I think he sat on the toilet the entire time we were gone and he was NOT happy about wearing pull-ups but we only had ONE day in the Redwoods and we definitely didn't want to sit around.
We had been told by several people that we should go to Fern Canyon. It was definitely one of our favorite places and we loved the adventure of walking through a canyon that was covered with beautiful ferns. Man alive it was beautiful and we loved walking through the creek or jumping over logs. It was awesome!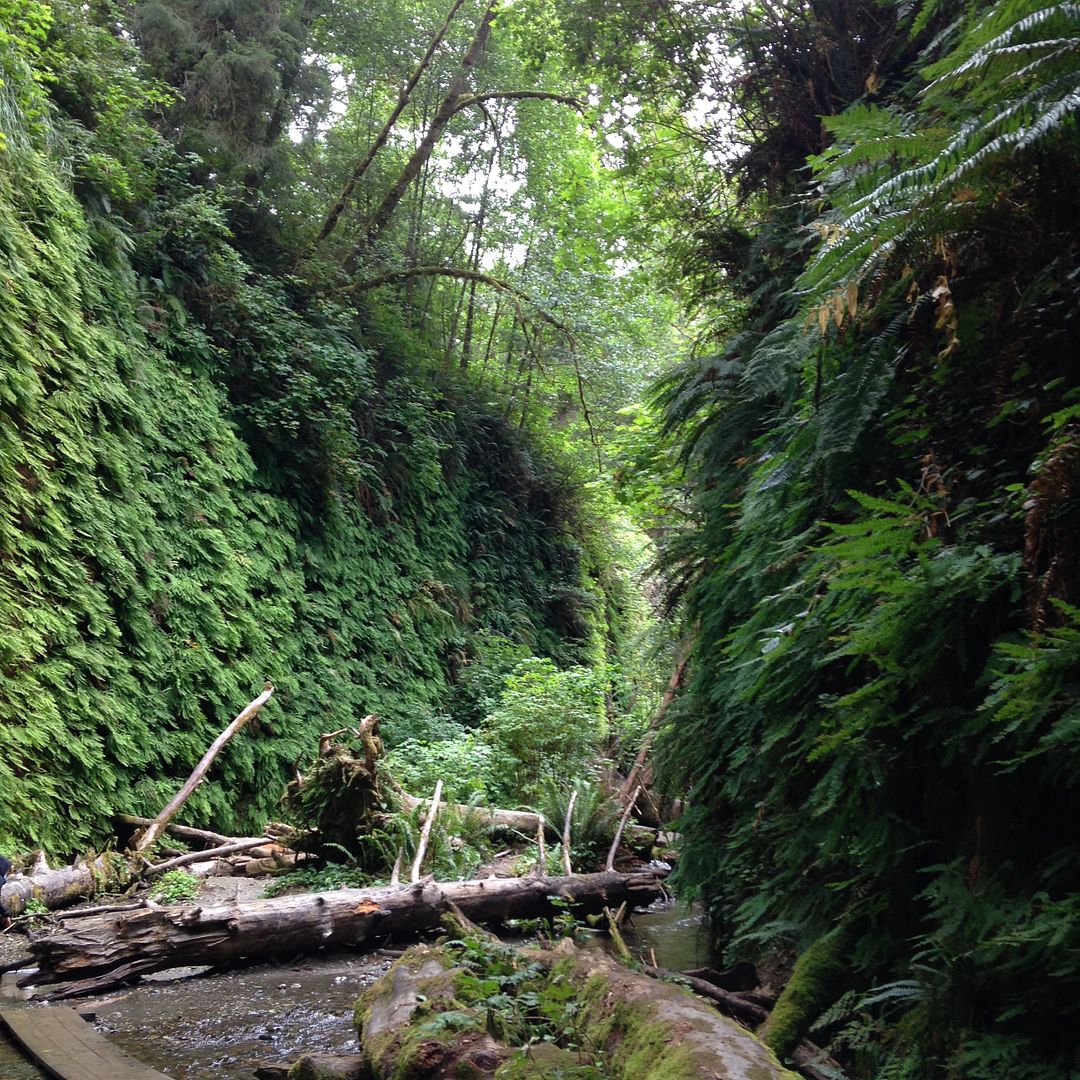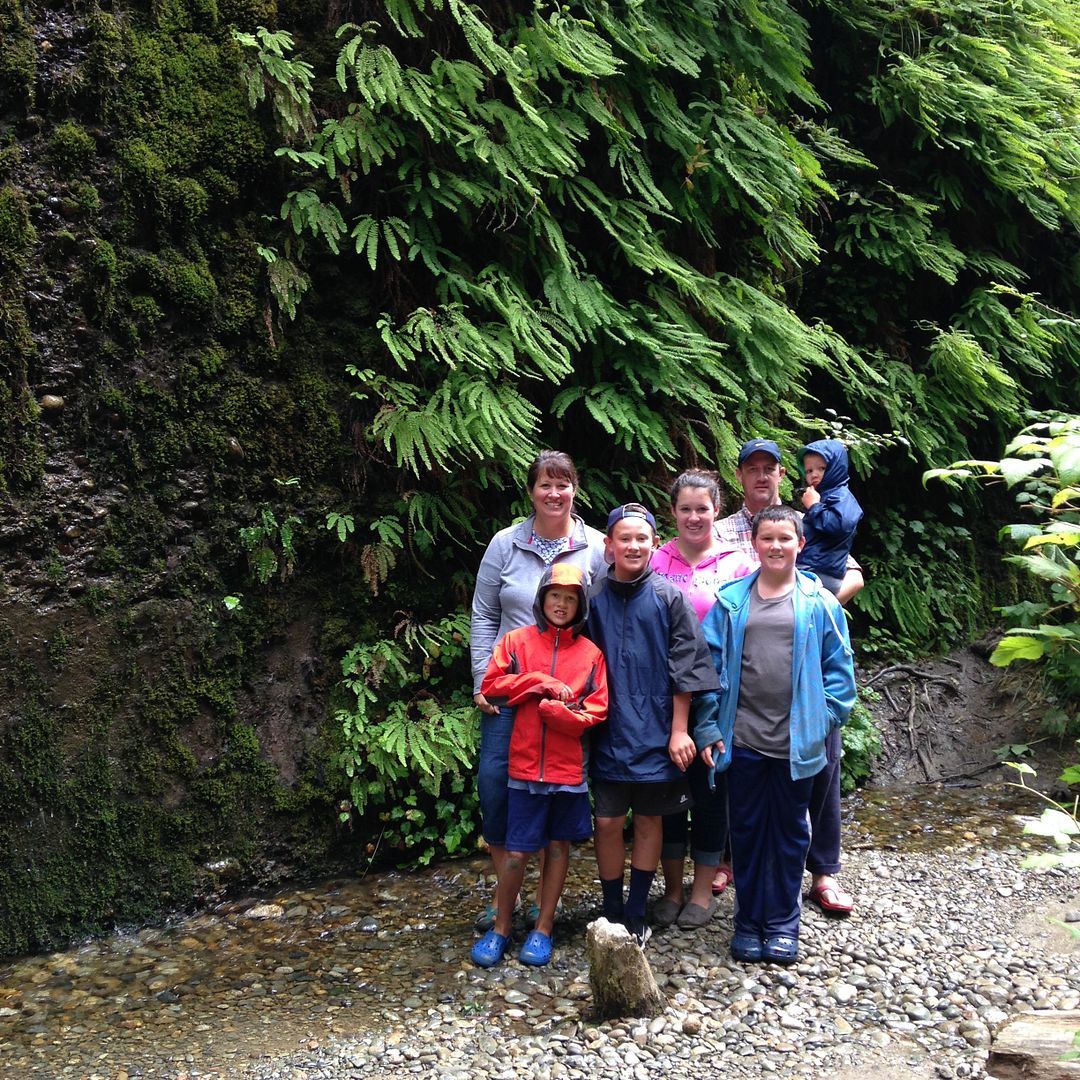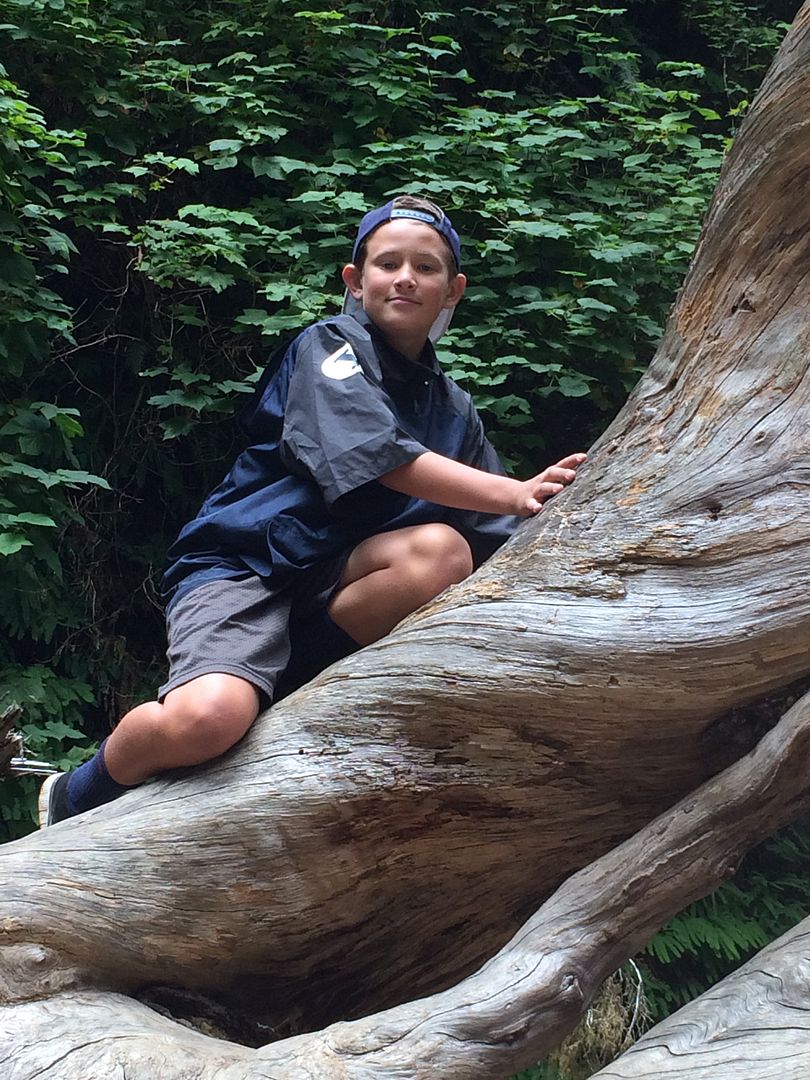 Once we got out of the canyon we saw more elk. This one was right next to the parking lot and wasn't leary of the crowds.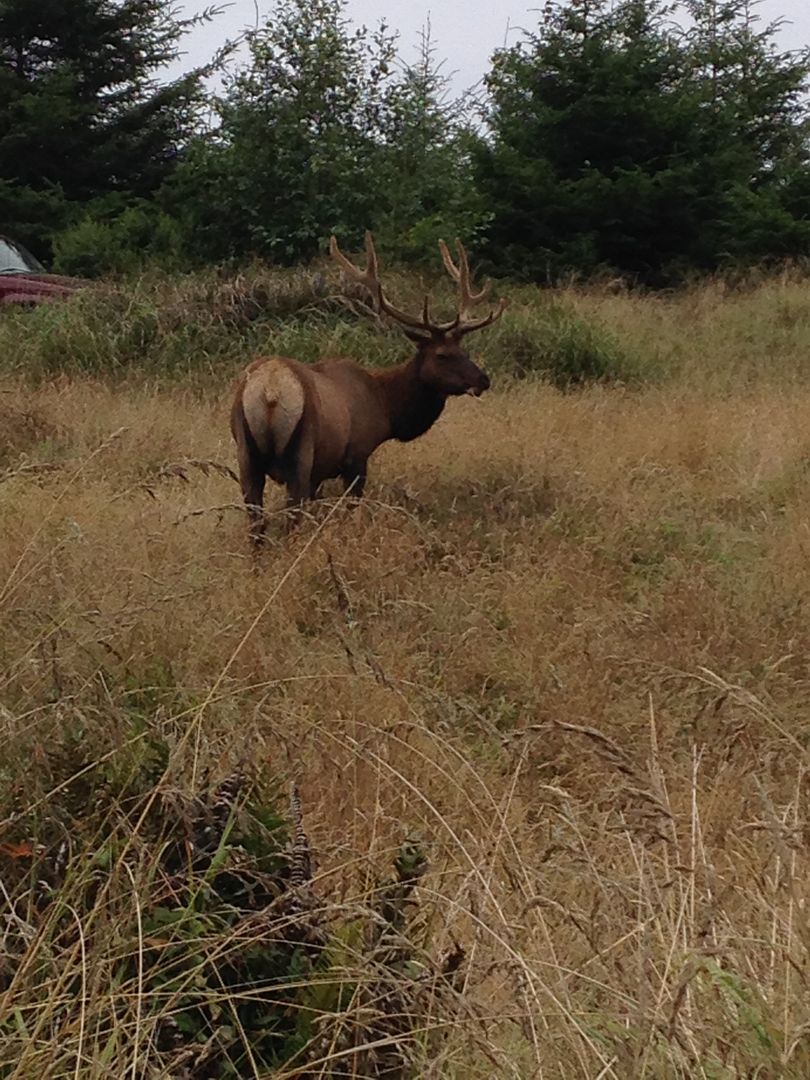 Next, we headed north to Prairie Creek Visitor Center. The park ranger there suggested a hike and if we found the hidden message along the trail the kids would be able to earn a patch.
This tree is called
Chimney redwood
and it is really amazing because the entire center is burned but it continues to grow. We could all fit inside plus the kids figured our trailer might fit too.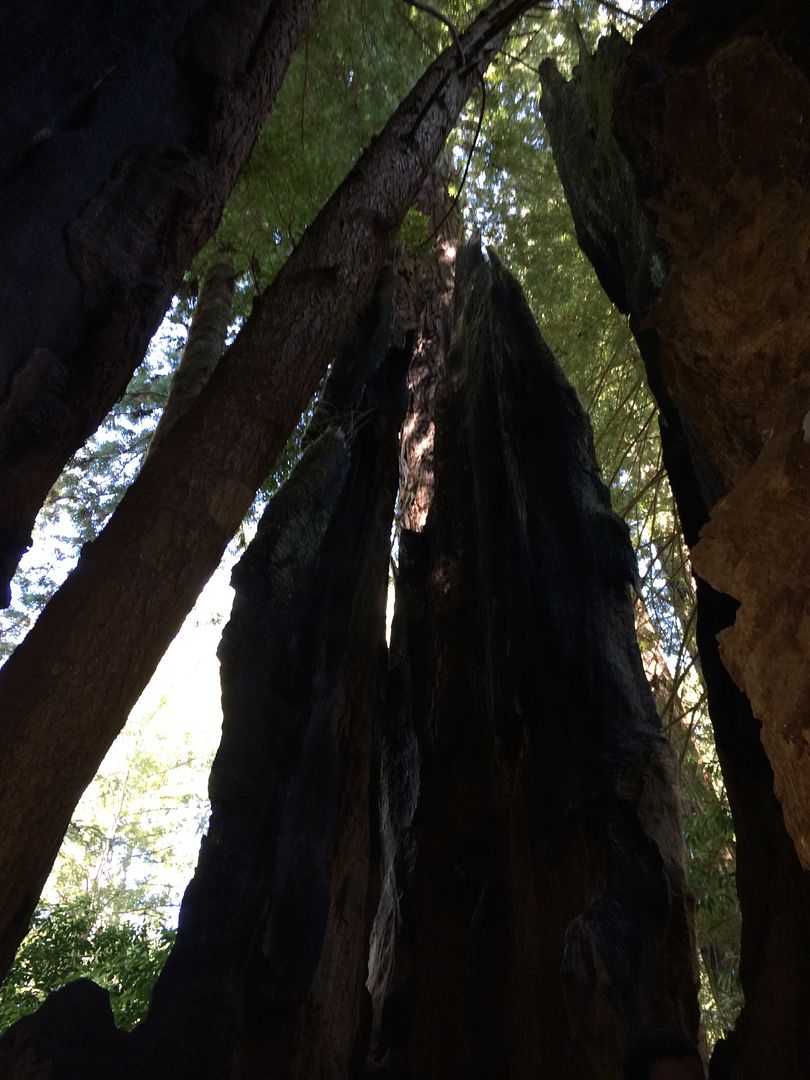 We were told the hike was a little over two miles and it was absolutely beautiful. We did have a map but I struggled to know where we were and how far we still needed to go.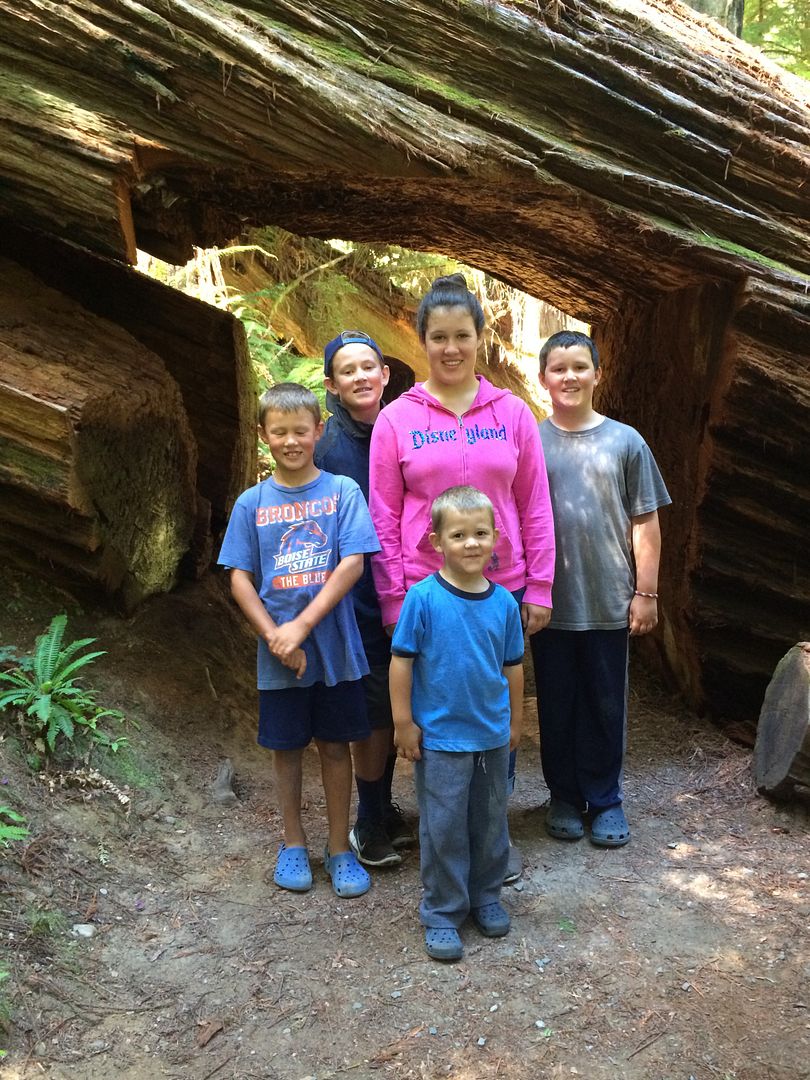 We crossed a busy street on our hike and found the
Big Tree
. We decided to continue on the hike since everyone was feeling fine.
We just couldn't get over the grandeur and beauty of those tall trees.
Someone might have really wanted some redwood to take home with them but was told it may be against the law.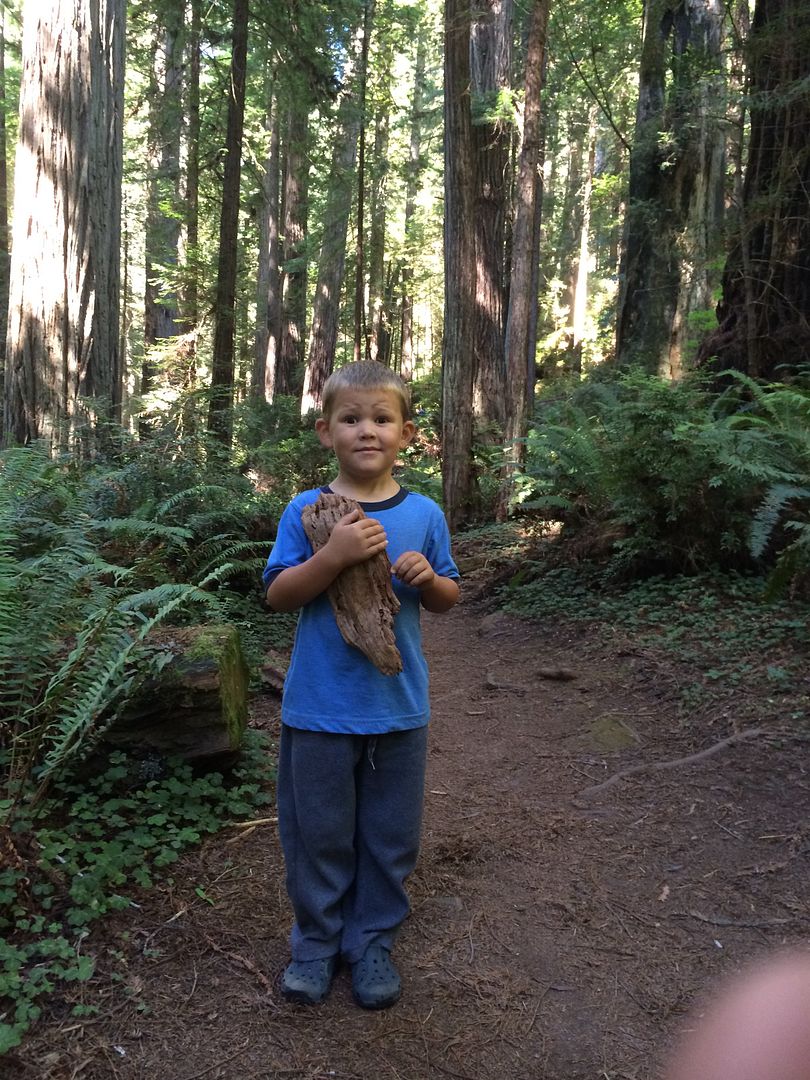 I won't go into details but the pictures says it all. After returning to the park station and looking at a map we figured we walked about six miles on our hike. Pretty good for two kiddos that had been throwing up that same morning.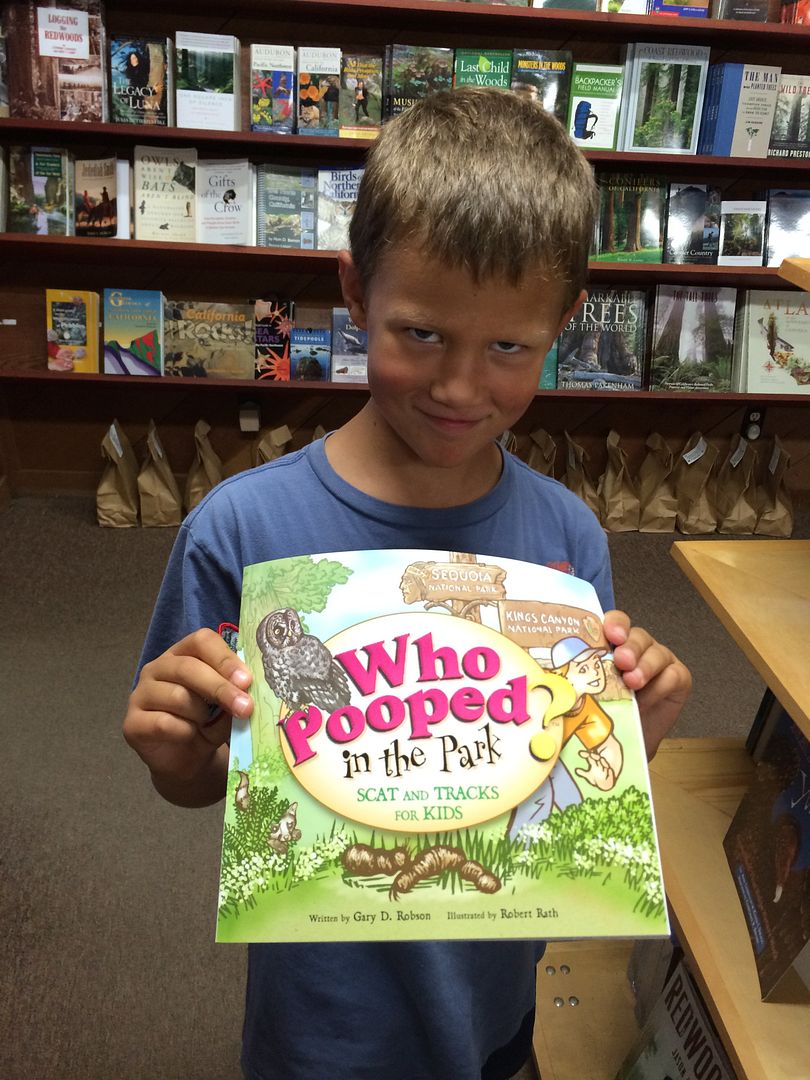 After our beautiful and long hike we headed back to our campsite for a dinner of roasting hotdogs and making s'mores before heading down to the beach.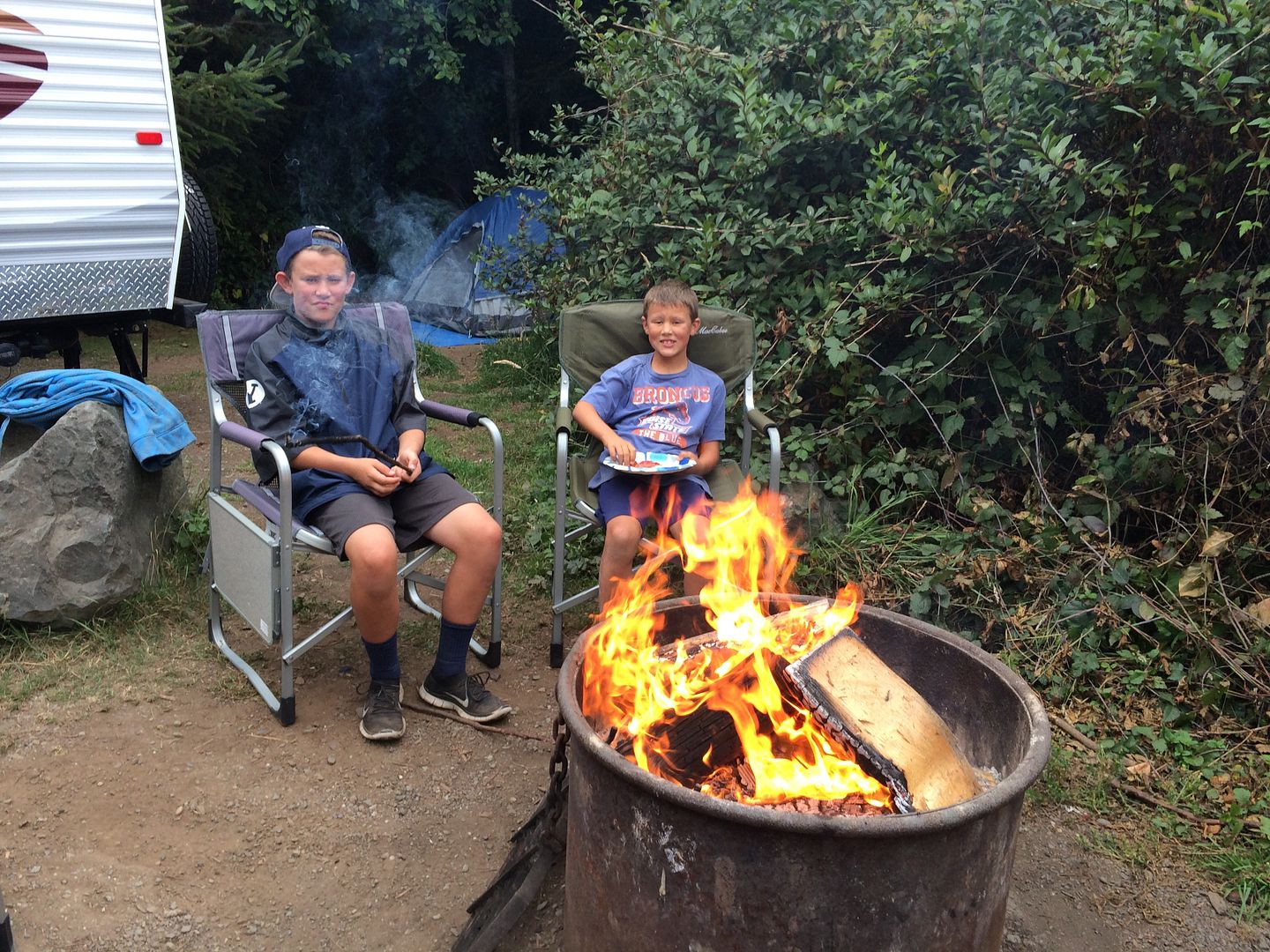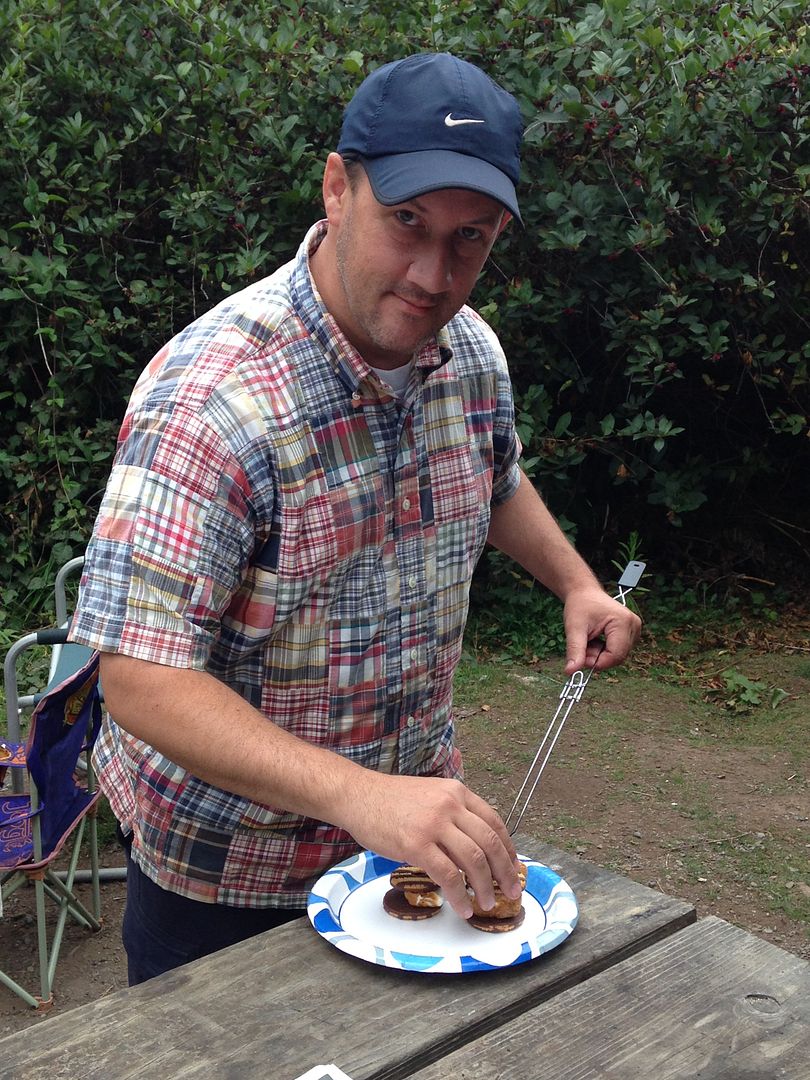 One thing I loved about our campsite was that we could hear the ocean. I love the sound of the ocean. This is a view from about 100 feet from our campsite before walking down the steep trail to the beach. Since I hadn't gone down earlier in the day I had no idea how steep it was.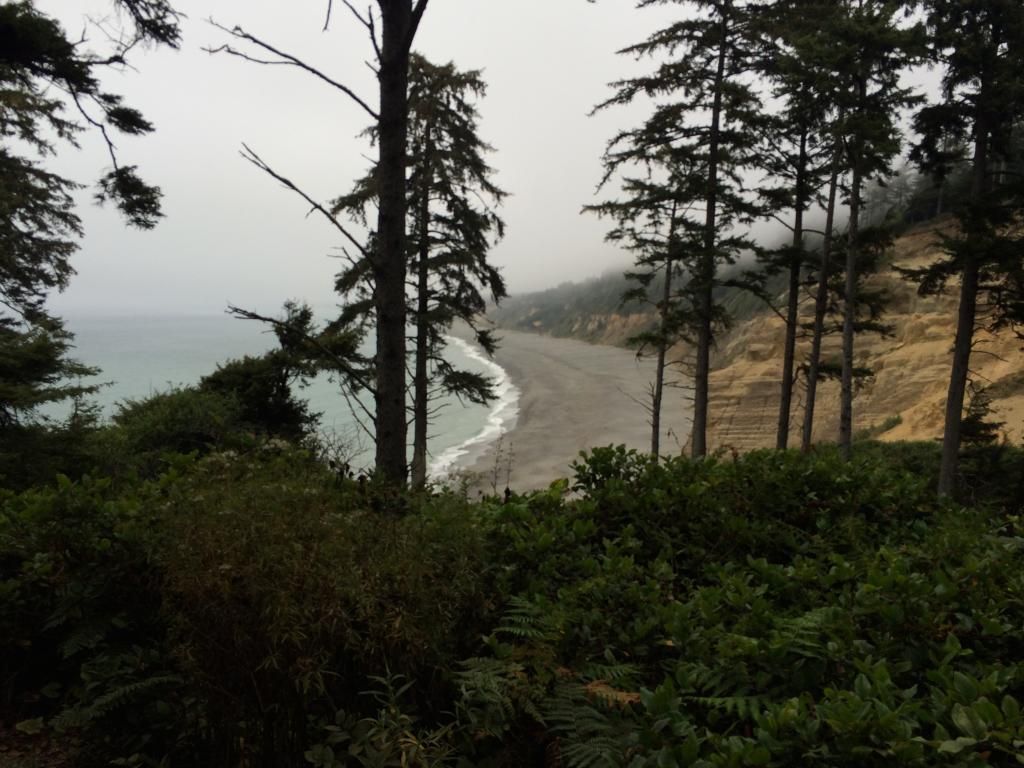 If you look at the very top that is where the campground was. It was a long, steep walk to the beach and then once we got there I started to have major anxiety when our kids were jumping the waves. The only way to describe it was that the ocean sounded angry and the waves crashed big making me fear that the kids would be pulled out to sea. It didn't help that a lady walking by told me a story about a family who tried to save their dog last year and all three of the family members drowned (the dog survived). After hearing that story, I told the kids they couldn't play in the water and instead we buried Andrew and Benjamin in the fun pebbles that lined the beach. Spencer and I looked for agates and shells but just found pretty rocks.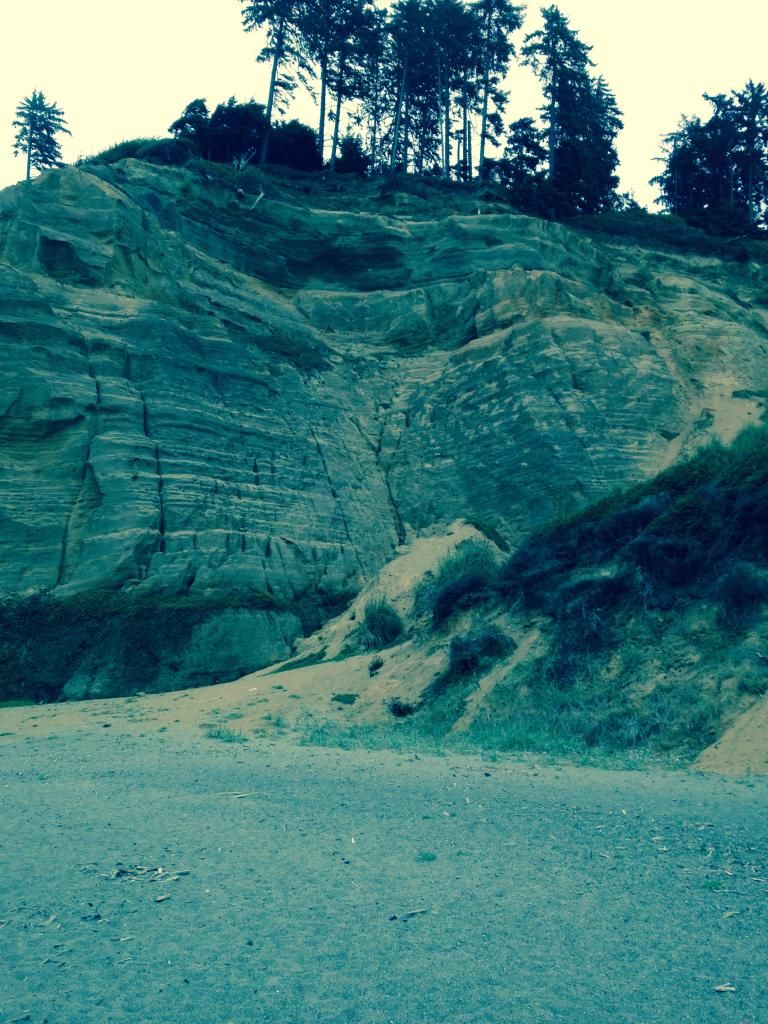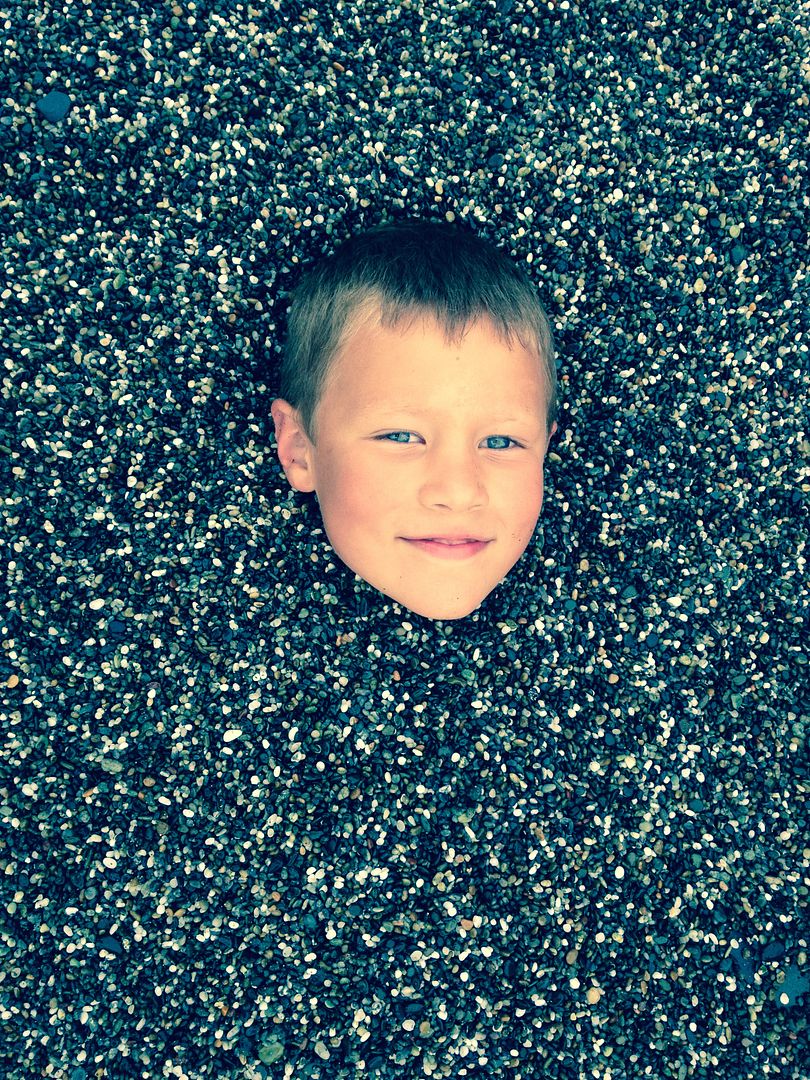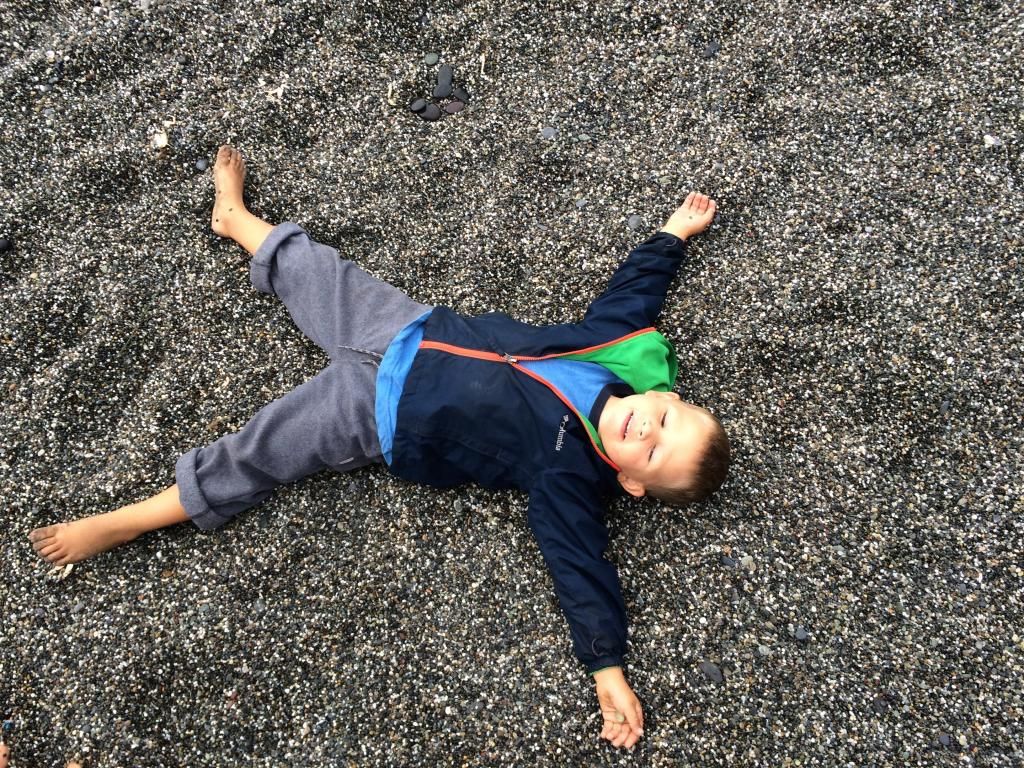 Since we knew it would be a long drive we got up early, got packed up and headed back to Bend. We wanted to go to the tree you could drive through, so we took the exit, unhitched our trailer and then drove to the tree. I got out and took the pictures (remember my yucky photo setting is still on) and we thought about driving through it several times but then we just couldn't do it. It seemed a little too tight for our comfort. I'm sure had we still had our old car we wouldn't have thought twice about driving through it, but we just couldn't with a new car.
We had planned on spending an afternoon at Trees of Mystery but since our trip was shortened by a day spent in Grants Pass we just stopped and got a picture with Paul Bunyan and Babe the blue ox.
When we got back home and friends asked us how our trip was, we told them all about our adventures and that we only bought one souvenir the entire trip - a new car. This definitely will always be our never-to-be-forgotten trip to the Redwoods.