After last years
Spring Break
, I vowed that I would NEVER go to the Oregon Coast during Spring Break again. It was freezing cold and raining the entire time. I have such wonderful memories of being at the beach and I feel such a closeness with my Heavenly Father when I am there. I want our own kids to have wonderful memories of going to the beach and feeling that same closeness. About a week before going to Bend, I began looking at the Weather Channel App to check out what the weather would be at the coast during our Spring Break. I just really LOVE being there! I saw that there would be a couple of days with 60 degree weather and NO rain. I didn't tell anyone, but my heart was yearning to be at the coast. So, when my sister called me two days before we were to go to Bend and asked if we wanted to join her family and her friends in Yachats for a day at the beach, I knew it was meant to be! We drove to Bend on Saturday, played with cousins, visited with Nonnie and went to church on Sunday before leaving for the coast on Monday morning.
We drove straight to Mo's in Florence to have delicious clam chowder and fish and chips for lunch and then we headed across the street for taffy before driving north to Yachats. As soon as we got to our destination we all walked down to the beach. This is how it made us all feel. Super Happy!!
Levi jumped in every tide pool he could find. I eventually took off his wet pants and then he kept on jumping in puddles.
It really made us all so happy to be there!!
We did a lot of exploring and creating.
We discovered the blow hole at high tide. Andrew and Nathan were really into seeing what they could put over the blow hole to see what it would throw up into the air. Nathan put his shoe over it. They placed lots of rocks, flowers, and anything else anyone was willing to lose. Once, Nathan was looking in the blow hole when it blew and it blew his hat off. Only Benjamin was with him and it REALLY spooked Benjamin. He thought that his dad almost got his head blown off.
Sarah's really good friend Lauren, was also vacationing in Yachats. In fact, she was staying in the house RIGHT next door to us. It was SUPER fun story to tell when we got home!!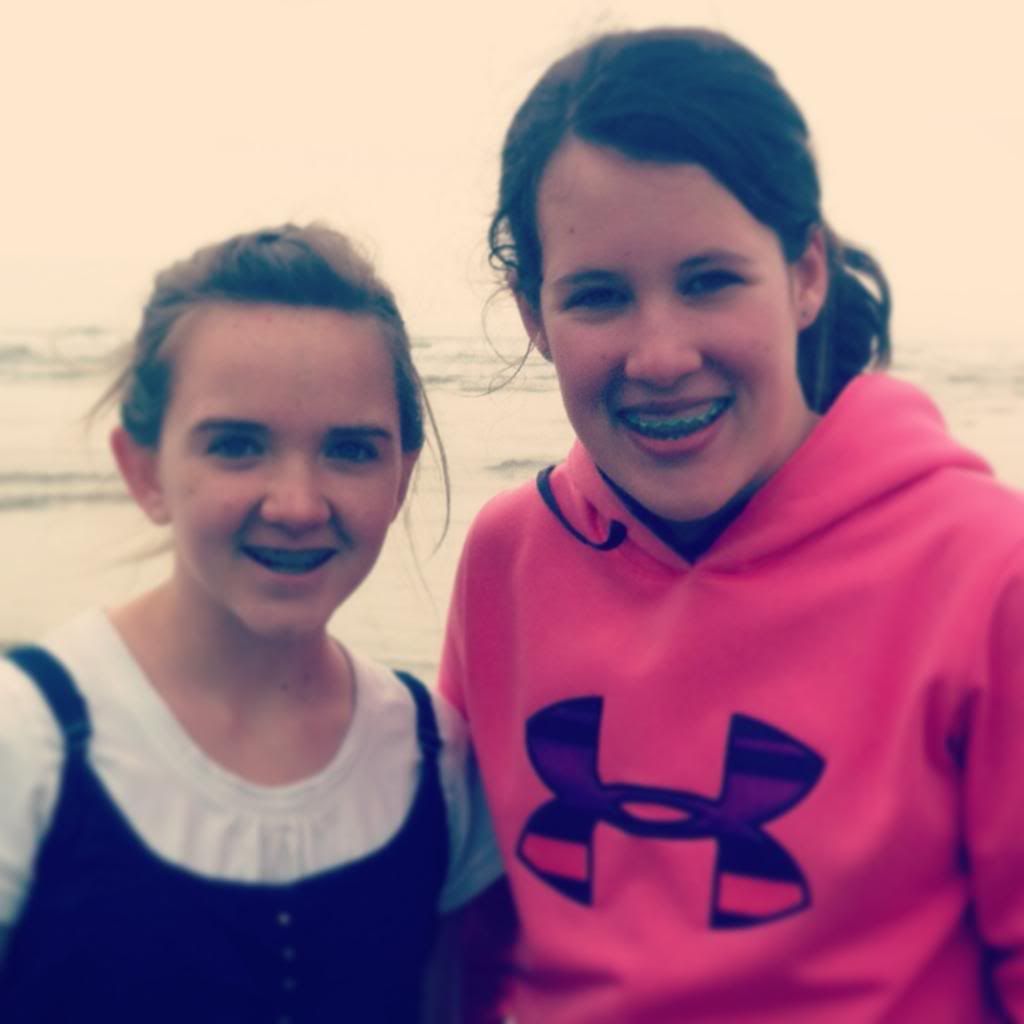 We also found a Geocache by the blow hole so that was extra cool!
One of our favorite places that we visited was Seal Rock. At low tide the tide pools were AMAZING and we saw seals swimming and relaxing on the rocks.
This is what we walked on when we were walking on the rocks. They were covered in muscles and barnicles.
So very happy to be at the coast with my honey!!
We were having SO much fun that we decided to stay for two nights and three day. The weather was PERFECT the whole time we were there. (When I say "perfect" I mean it only drizzled a little bit and it wasn't windy.) The kids sat in the hot tub, played games, watched movies until late and played a lot on the beach. We also went exploring in the quaint town of Yachats. We had lunch at Luna's, went to another candy store, did another Geocache, walked through the Church museum and played at the town park. Oh, and had to make a phonevcall in the phone booth!
Someone took a nap.
This is the beach house where we stayed. My sister Angie has a good friend, Amanda that bravely invited all eleven of us to stay with them. I can't thank her enough for making my Spring Break dream come true - being at the beach!
On our last day, we drove south to Heceta Beach. There we walked up to the light house that is still under construction so we were unable to go inside, but the view was incredible.
We walked on the beach, found lots of shells and explored in the cave.
As we continued south, we stopped along the side of the road to look for Grey whales. Several of us saw spouts of water and faint images of gray backs coming out of the water. The whales were pretty far out, so it was a little tricky to spot them. We then decided to stop at The Sea Lion Caves. My mom had been there back in the 50's and I had been there in the early 90's but no one else had been there. Nonnie treated us to experience and we will all say it was one of our favorite things we did at the beach!! We got there when the tide was coming in and it was so fun to watch all those sea lions laying peacefully on the rocks only to be blasted by the waves coming in. It was hard to get good pictures because it was so dark down in the cave, but truly it was SUPER cool to see all of those sea lions in their natural environment. We loved it!!
On our way home, we stopped in Florence at Mo's again for a delicious lunch and then walked across the street for candy for the ride home. I thought about it later, and vacations don't get any better than when you can say you went out to lunch and to a candy store every day. But then when you add on all of the other wonderful things we did and saw, it truly was my dream Spring Break!!
We also had a wonderful time in Bend when we got back. The boys played at the skate park. Nonnie, Sarah and I went shopping in downtown Bend. Nathan worked hard on my mom's yard getting the sprinklers working and getting all her planting beds ready. The kids worked a little in the yard. They watched a lot of Disney Channel. Ate Nonnie's yummy food! We all feel SO spoiled when we spend time with Nonnie! Thank you so much for a very memorable Spring Break, Nonnie!